Monster Pictures, the genre distribution label that brought the controversial Human Centipede films to the UK, yesterday announced that it will be expanding its distribution plans for the UK. The company, owned by Bounty Films, is building a slate of twenty new films for UK theatrical and home entertainment release over the next year, and has appointed Helen Grace, founder of indie sales and distribution outfit Left Films, as the new Label Manager for Monster Pictures UK.
Monster Pictures was set up two years ago as the new home for cutting-edge genre titles and has already released titles such as Dead Hooker in a Trunk, The Yellow Sea, Helldriver, and Yakuza Weapon in the UK through Eureka Entertainment, as well as Tom Six's The Human Centipede (First Sequence) and The Human Centipede 2 (Full Sequence), the latter of which caused controversy when its uncut version was banned in the UK and Australia.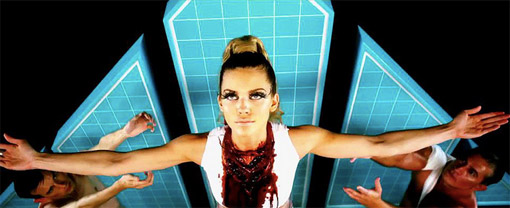 Monster Pictures' new acquisitions for both the UK and Australia include Excision from Archstone Distribution, the controversial fantasy horror starring 90210's AnnaLynne McCord, Traci Lords and Malcolm McDowell, and also Midnight Son, from Jinga Films. Other upcoming releases for the UK, include The Inside, an Irish fear flick that premieres at London's FrightFest this August.
This latest appointment of a London-based label manager is designed to increase the volume of genre titles released in the UK. Helen, who previously launched indie horror films such as Colin and Blood Car said:
"Monster Pictures has forged such a strong identity with their distribution of edgy and innovative 'new cult' films that don't shy away from controversy, I am thrilled to be part their expansion in the UK. We have some very exciting releases coming up for genre film fans, and the company is also making great headway with its VOD platform www.bountyfilms.com - it's a great time to be immersed in independent genre film distribution."
Monster Pictures UK can be found on Facebook www.facebook.com/MonsterPicturesUK and Twitter at www.twitter.com/MonsterPicsUK.