The last decade of the 15th century, the Renaissance, an enlightened era of immense scientific advancements, where intellectual and artistic endeavours changed the world and Europe became the centre of global commerce. It was the time of Michelangelo, Leonardo Da Vinci and Botticelli. But amidst the deadly shadows of an archaic and crumbling Rome, extreme violence, depravity and corruption still have a stranglehold on the eternal city. Within this murderous abyss of treachery and death stands the infamous Cardinal Rodrigo Borgia. A ruthless man whose relentless lust for power is about to lead the church and the world into one of the most controversial and darkest chapters in known history.
Treading a different path from the Showtime produced drama starring Jeremy irons, Borgia (Faith and Fear) is a lavish, licentious tale charting the early Spanish origins of the legendary family and their brutal rise to Power within the corrupt Vatican and eventual domination of all Renaissance Italy. Taking in all the infamous, complex characters within the family that have made the Borgia name notorious for half a century, the series features an acclaimed cast including John Doman (The Wire) as Rodrigo Borgia, Isolda Dychauk (Faust) as Lucrezia Borgia and Art Malik (Holby City, The Jewel in the Crown) as Francesc Gacet.
An English language production, the series has shown to such success across Europe, it's second series will be filmed this year. The ssereis was created by Tom Fontana, one of the guiding lights of series such as Homicide: Life on the Street, Oz and St. Elsewhere, and four episodes were directed by Oliver Hirschbiegel, whose credits include Das Experiment and Downfall.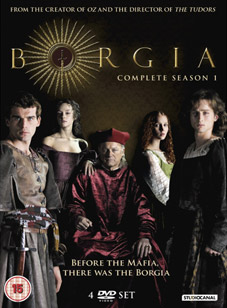 Borgia will be released on UK DVD on 20th August 2012 by StudioCanal at the RRP of £29.99.
No extra features have been listed.