Amy (Yvonne Mitchell – Queen of Spades, Tiger Bay, The Divided Heart), a hopeless housewife – she burns meals, does not finish housework, listens to the radio too loud, and some days does not even get around to getting dressed. By contrast, her husband Jim (Anthony Quayle – Lawrence of Arabia, Ice Cold in Alex, The Eagle Has Landed), is much more together and still attractive. When Jim tells Amy he has fallen in love with his young, beautiful secretary Georgie (Sylvia Syms – The Queen, Victim, Ice Cold In Alex), Amy's already fragile world threatens to fall apart.
From the director of the retro masculine classics including The Guns of Navarone, Ice Cold in Alex and Cape Fear, J Lee Thompson sensitively directs Woman in a Dressing Gown (1957), a renowned British drama that follows the turmoil caused when a seemingly comfortable marriage of twenty years, is rocked by the husband's infidelity.
Originally released in 1957, the film is a powerful and progressive drama at a time of social and political movements, anticipating the British New wave of Social Realism. Woman in a Dressing Gown shows us that the wife in this marriage has become hopeless and tired, all born from her loneliness, boredom and depression. As such the film can in some ways be seen as even more progressive, at least in terms of gender politics, than its better known successors – Saturday Night and Sunday Morning, Look Back in Anger etc – because at its heart is a middle-aged housewife, rather than an angry young man.
The film was also nominated for two BAFTAS and Yvonne Mitchell's emotional performance as the scorned housewife won her the Silver Bear in Berlin, where the film also picked up the FIPRESCI prize and the OCIC Special Mention prize.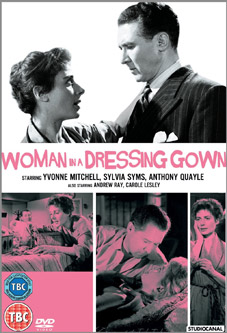 Woman in a Dressing Gown will be released on UK DVD on 13th August 2012 by StudioCanal at the RRP of £15.99.
Extra features will include:
Interview with Sylvia Syms;
Interview with expert Melanie Williams;
Audio interview with producer Frank Godwin;
Stills gallery;
Trailer.
You can watch a clip of the remastered print here: