Just when we were convinced that zombies were no longer a viable subject for original horror cinema, along comes a TV series that proves us wrong. The first series of The Walking Dead was superb television, and if series 2 felt a tad less concentrated, it was still terrific stuff that delivered its share of startling twists and graphic horror. The second series follows police officer Grimes as he continues to lead a group of survivors in the midst of a zombie epidemic. As the group struggle to retain their humanity whilst the world implodes around them, personal rivalries are brought to the fore in a world overrun with the walking dead...
Based on the comic book series of the same name by Robert Kirkman and published by Image Comics, The Walking Dead stars Andrew Lincoln as Rick James, Sarah Wayne Callies as Lori Grimes; Laurie Holden as Andrea; Steven Yeun as Glenn; Norman Reedus as Daryl Dixon; Jeffrey DeMunn as Dale, Chandler Riggs as Carl; Lauren Cohan as Maggie; Scott Wilson as Hershel; Iron E. Singleton as T-Dog and Melissa McBride as Carol. The series is executive produced by Glen Mazzara, Kirkman, Gale Anne Hurd, and David Alpert with Greg Nicotero as co-executive producer.
The series has received widespread critical acclaim since it debuted in 2010 and remains the most watched drama series on basic cable for Adults 18-49 and Adults 25-54 in the USA. The series has garnered an Emmy Award for Outstanding Prosthetic Make-up and a Golden Globe Award nomination for Best Television Series – Drama, among other accolades. Critics have heralded the series as "the most suspenseful show on any network" (Boston Herald) and "the greatest thriller ever produced for television" (Entertainment Weekly). The Walking Dead airs first on FX in the UK and season three will premiere this autumn.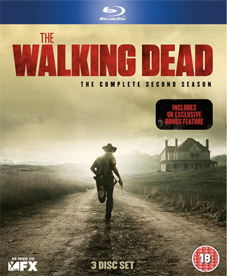 The Walking Dead: The Complete Second Season will be released on UK DVD and Blu-ray on 27th August 2012 by Entertainment One at the RRP of £39.99 for the DVD and £44.99 for the Blu-ray.
Extra features on both will be:
Featurettes:

All The Guts Inside
Live Or Let Die
The Meat Of The Music
Fire On Set
The Ink Is Alive
The Sound Of The Effects
In The Dead Water
You Could Make A Killing
She Will Fight
The Cast On Season 2
Wardrobe of The Walking Dead

Deleted Scenes from the following episodes with optional Audio Commentary with Executive Producer Glen Mazzara:

What Lies Ahead
Save The Last One
Secrets
Pretty Much Dead Already
Nebraska
Judge, Jury, Executioner
Better Angels
Beside The Dying Fire

Character Profiles (UK exclusive bonus feature)
Let's hope this time that the series will not be cut for UK release as happened with season 1, apparently to obtain a 15 certificate. Season 2 has been rated 18 for home video release, so the signs are good.