Having landed with a splash as the hero of the finest and most influential of modern science fiction films, The Terminator, and stuck with James Cameron to play the good guy in Aliens and the bad guy in The Abyss, actor Michael Biehn has dropped out of the limelight little, despite being a consistently busy boy since. In 2010 he made his directorial debut with the not widely seen b-movie action thriller The Blood Bond, in which he also starred, but the film was taken out of his hand after principal photography was complete and some footage re-shot by producer Bey Logan (yep, that Bey Logan). Now he's returned with his second feature as director and leading man with the grindhouse influenced The Victim.
During a social outing deep in the quiet woodland with close friend Mary, Annie's life is put in jeopardy when she is witness to a violent act at the hands of two Sheriff's Deputies. Fleeing from the attackers she stumbles across Kyle, a shady recluse living in a cabin the middle of the woods. The rugged loner stays far from civilisation, which is until a knock on the door throws his solitary life into chaos. Having been affected by Mary's desperate bid for her life, Kyle bravely decides to take Sheriff's law into his own hands. Two worlds collide in this psychological thriller that will make you question your trust in mankind. Who is The Victim?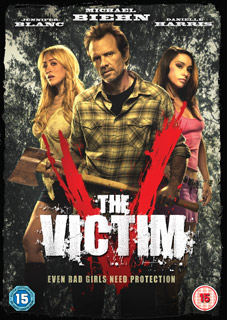 You'll get your chance to find out on 24th September 2012 when The Victim, which Ain't It Cool News called "A twisted, sleazy little film that will make grindhouse fans quite happy", arrives on UK DVD and Blu-ray from Anchor Bay at the RRP of £12.99 for the DVD and £15.99 for the Blu-ray.
No extra features have been listed, not even...