Three years after The Gospel According to Matthew, Pier Paolo Pasolini resumed his series of classical adaptations with a savage, highly personal take on Sophocles' ancient Greek tragedy Oedipus Rex [Edipo Re]. As his first colour feature, Oedipus Rex (1967) makes brilliant use of wildly alternating Moroccan landscapes to transpose collective myth into a particular vision that is at once tender, sensual, and wholly unsparing.
The film is divided into three sections set in different eras. The opening takes place in 1920s Italy, and recounts a birth that echoes that of the director himself, the product of a beautiful bourgeoise's affair with a military officer. The mid section depicts a time "outside of history" – it is here that the myth of Oedipus (portrayed by Franco Citti of Accattone and Coppola's The Godfather), one of patricide and incest, plays out opposite the young man's mother/lover (Silvana Mangano). An epilogue shot on the streets of present-day Bologna finds Oedipus playing his flute for a bustling citizenry.
With its kinetic handheld camerawork and strikingly primeval costumes, Pasolini's film rattles its art-genre framework in the enduring quest to exorcise repressive emotional forces.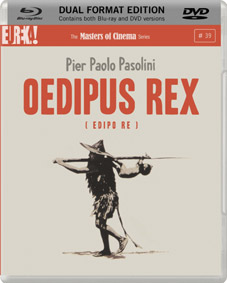 Oedipus Rex will be released on UK dual format (DVD and, for the first time, Blu-ray) on 24th September 2012 by Eureka as part of the Masters of Cinema series at the RRP of £20.42. The film will also be released as a DVD only edition on the same date at the RRP of £17.36.
Featuring a new HD restoration of the film in its original aspect ratio, in 1080p on the Blu-ray, plus newly translated optional English subtitles, both editions will have the following extra features:
Original Italian theatrical trailer;
28-page booklet featuring vintage writing by Pasolini, excerpts from an interview with the director by Oswald Stack about the film, and rare archival imagery.