Armchair Theatre was ITV's flagship drama anthology series and this release contains twelve plays initially broadcast between 1950s and 1960s. It became a showcase for the post-war generation of British writers who sought to place sensitive social topics – in particular the British class system – under the microscope. Throughout, the series featured an astonishing roll-call of writers including J.B Priestley, James Mitchell, Fay Weldon and Alun Owen, while Patrick McGoohan, Stanley Baker, Billie Whitelaw, Colin Blakely, Judy Cornwell and Hugh Griffith are among the celebrated and accomplished actors appearing in groundbreaking dramas ranging from the playful to the poignant.
Armchair Theatre Volume 3 is a 4-disc set that will consist of the following titles:
Now Let Him Go (1957)
Written by J.B. Priestley and starring Margaret Ashcroft, John Breslin and Hugh Griffith.
The Criminals (1958)
Written by Malcolm Hulke and Eric Paice and starring Stanley Baker, Raymond Huntley and Allan Cuthbertson.
A Night Out (1960)
Written by Harold Pinter and starring Tom Bell, Madge Ryan, Harold Pinter and Arthur Lowe.
Lena, O My Lena (1960)
Written by Alun Owen, directed by Ted Kotcheff (Fun with Dick and Jane, First Blood) and starring Billie Whitelaw, Peter McEnery and Colin Blakely.
The Man Out There (1961)
Written by Donal Giltinan and starring Patrick McGoohan, Katharine Blake, Clifford Evans and Jack Watson.
The Omega Mystery (1961)
Written by James Mitchell and starring Donald Churchill, Miranda Connell and Frank Gatliff.
Tune On and Old Tax Fiddle (1961)
Written by Ronald Hardy, directed by Charles Jarrott (Anne of the Thousand Days, The Other Side of Midnight) and starring Norman Rossington, Raymond Huntley, John Le Mesurier and Henry McGee.
Afternoon of a Nymph (1962)
Written by Robert Muller, directed by Philip Saville (The Life and Loves of a She-Devil) and starring Janet Munro, Ian Hendry, Peter Butterworth, William Gaunt and Aubrey Morris.
The Snag (1963)
Written by Donal Giltinan and starring June Barry, Brenda Dunrich, Derek Francis, Arthur Lowe and Patsy Rowlands.
Living Image (1963)
Written by James Broom Lynne, directed by Philip Saville and starring Harry Baird, Clive Colin Bowler, Alec Clunes, Alexis Kanner and James Villiers.
Poor Cherry (1967)
Written by Fay Weldon, directed by Piers Haggard (The Blood on Satan's Claw) and starring Peter Arne, Jane Birkin and Judy Cornwell.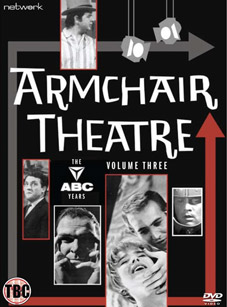 Armchair Theatre Volume 3 will be realised on UK DVD on 13th August 2012 by Network Releasing at the RRP of £39.99.
Extra features will include:
Now Let Him Go retakes (disc 1) – alternate takes from the oldest surviving edition;
Old Man's Fancy (disc 4) – an unaired play from 1964.