As part of their ongoing project to revisit some of the most iconic films from their back-catalogue by releasing a series of acclaimed and influential films on Blu-ray with unique special features and accompanying booklets. In the latest collection, due in September, will consist of Orson Welles' The Trial, Luis Buñuel's That Obscure Object of Desire and Marcel Carné's Le Quai des Brumes.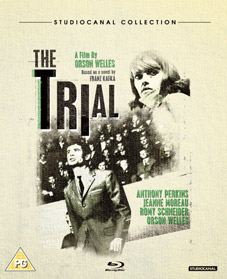 The Trial (1962)
Based on the influential Franz Kafka novel, The Trial is a paranoid masterpiece directed by Orson Welles and starring Anthony Perkins, Jeanne Moreau, Romy Schneider, Orson Welles and Akim Tamiroff. Josef K (Perkins) is arrested, but has no idea what crime he is accused of. In order to find out what offence he is meant to have committed, and to protest his innocence, Josef K must go through the machinations of the judicial system, but he soon finds himself trapped in a dehumanised nightmare.
Extra features will include:
Welles, Kafka and The Trial documentary;
Welles, Architect of Light documentary;
Tempo Profile: Orson Welles;
Interview with Steven Berkoff (actor, playwright) – adaptations of Kakfa's The Trial and Metamorphosis;
Deleted Scene;
Trailer;
Booklet on the movie written by Jonathan Rosenbaum, film critic and author of Discovering Orson Welles (2007), the editor of This Is Orson Welles (1998) and consultant on the 1998 re-edit of Touch Of Evil.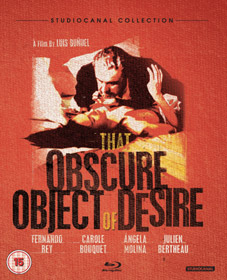 That Obscure Object of Desire [Cet obscur objet du désir] (1977)
Adapted from Pierre Louÿs' 1898 novel La Femme et le Pantin, That Obscure Object of Desire proved to be Luis Buñuel's final film. Recounted in flashback to a group of railway travellers, the story wryly details the romantic perils of Mathieu (Buñuel favourite Fernando Rey), a wealthy middle-aged French sophisticate who falls desperately in love with his 19-year-old former chambermaid Conchita (Carole Bouquet). Thus begins a surreal game of sexual cat-and-mouse, with Mathieu obsessively attempting to win the girl's affections as she manipulates his carnal desires, each vying to gain absolute control of the other.
Special features will include:
Arbitrary Desire (interview with Jean-Claude Carrière);
Interview with Carlos Saura;
Double Dames (interview with Carole Bouquet and Angela Molina);
A Portrait if Luis Buñuel (interview with Pierre Lary and Edmond Richard).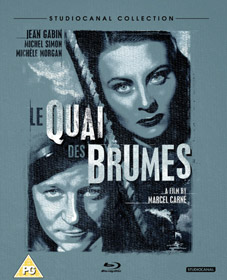 Le Quai des Brumes [Port of Shadows] (1938)
Marcel Carné's controversial adaptation of the Pierre Mac Orlan novel of the same name is today regarded as one of the greatest French classical movies. Jean (Jean Gabin), a deserter, arrives in Le Havre and looks for a shelter before leaving the French territory. Housed in a shed on the harbour, at the end of the docks, he meets an eccentric painter (Michel Simon) and a mysterious and beautiful girls called Nelly (Michele Morgan). From then on he will be trapped in a tragic destiny, in spite of his passion for Nelly and his will to live...
Special features will include:
On The Port Of Shadows;
Introduction to Quai Des Brumes by Ginette Vincendeau, Professor and Film Critic;
Restoring Quai Des Brumes;
Booklet on the movie written by Ginette Vincendeau.

The Trial, That Obscure Object of Desire and Le Quai des Brumes will be released individually on UK Blu-ray by StudioCanal on 3rd September 2012 as part of The StudioCanal Collection at the RRP of £24.99 each.