Daniel Shergold (Dan Richardson), a writer on the occult, is a happily married man until the day his wife is murdered, and he is left paralysed in a brutal, seemingly random attack, by a group of masked intruders. When the police are unable to find the perpetrators, Daniel is left in a pit of bitterness and anger. Desperately seeking vengeance, Daniel is brought to the attention of a mysterious stranger who changes everything. He offers Daniel something he hadn't dared hope for, something that shouldn't even be possible. He will help him walk, help him search, help him find vengeance – and it soon becomes clear that his wife's murder wasn't entirely without purpose. All this, but at one hell of a price...
A genre-splicing journey into the darkest depths of the soul. The Harsh Light of Day is a new British vampire-themed horror, with a story of revenge and loss at its heart. Shot on a micro-budget on location in Dorset, England it is the feature debut from writer-director Oliver S Milburn.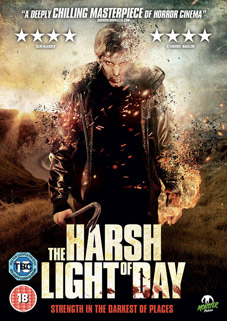 Described by Horrorchronicles.com as "A deeply chilling masterpiece of Horror cinema" and "Genuinely gripping" by Twitch Film, The Harsh Light of Day will be released on DVD by Monster Pictures UK on 1st October 2012 at the RRP of £13.27.
Extra features will be:
Short film: Speechless;
Interviews with director Oliver S Milburn;
Trailers;
Gag Reel;
Deleted Scenes;
Tips on Independent Film-Making.