With the etching onto glass of a single word – "MABUSE" – Berlin reawakens into a nightmare. Fritz Lang's electrifying Das Testament des Dr. Mabuse [The Testament of Dr. Mabuse] is the astonishing second instalment in the German master's legendary Mabuse series, a film that puts image and sound into an hypnotic arrangement unlike anything seen or heard in the cinema before – or since.
It's been eleven years since the downfall of arch-criminal and master-of-disguise Dr. Mabuse (Rudolf Klein-Rogge), now sequestered in an asylum under the watchful eye of one Professor Baum (Oskar Beregi). Mabuse exists in a state of "catatonic graphomania", his only action the irrepressible scribbling of blueprints that would realise a seemingly theoretical "Empire of Crime". But when a series of violent events courses through the city, police and populace alike start asking themselves with increasing panic: "Who is behind all this?!" The answer borders on the realm of the impossible...
Not only a follow-up to Lang's earlier Dr. Mabuse, der Spieler. [Dr. Mabuse: The Gambler], but also, with the presence of Otto Wernicke's Police Commissioner Lohmann, a semi-sequel to Lang's immortal masterpiece M, Das Testament des Dr. Mabuse is itself considered by many to be Lang's greatest achievement – a work of terrible and practically supernatural power that seems to have prophesied the implications of the Nazi scourge.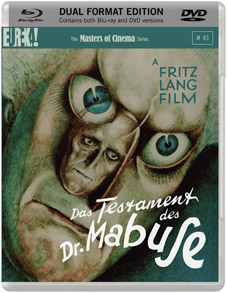 Having previously been released on DVD as part of the Mabuse Box Set, Das Testament des Dr. Mabuse will be released for the very first time on Blu-ray, in a Dual Format (Blu-ray + DVD) edition and limited edition SteelBook by Masters of Cinema on 24th September 2012 at the RRP of £20.42 for the regular dual format release and £30.63 for the Steelbook Edition.