When a Russian Space station crash lands on a city, a deadly virus spreads, turning the inhabitants into psychopathic flesh eaters.

After spending the night safely locked up in a jail cell, two brothers and two crazy criminals emerge to find their hometown devastated, and at the centre of a zombie outbreak. When one of the brothers receives a cry for help from a survivor, they join forces with the local police officer and embark on a reluctant rescue mission, pitting their wits, and risking their lives against these mutant killers.
If you've not yet have enough of the seemingly inexhaustible zombie sub-genre, then Kill Zombie should give you something to get your teeth into, despite a plot that sits safely within the usual formula. Reviews are hard to come by at present, unless you can read Dutch, but that's because it makes its UK premiere at this year's FrightFest on Saturday 25th August.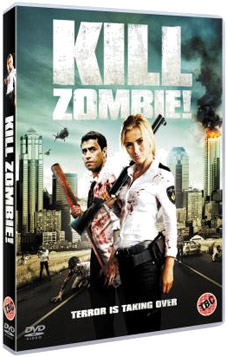 If you're not able to get there then you won't have too long to wait, as it arrives on UK DVD on 17th September 2012 from Kaleidoscope Home Entertainment at the RRP of £15.99.
No details of extra features have been confirmed yet, and we couldn't even track down a trailer. Dammit.