Had enough of zombie movies yet? No ? Really? Well you're in luck, then, as on 8th October Monster Pictures are to release a 2-DVD set titled Ultimate Zombie Feast boasting five hours of zombie films of varying length, including festival favourite Dead Hungry, the action-packed Arise, the gore-chic of Paris by Night of the Living Dead, the exclusive feature-length Mormon zombie movie The Book of Zombie, the animated It Came From the West, and one of India's first zombie movies Savages.
The full line-up is as follows:
Disc 1
Zombeer (Netherlands, 11 min)
Zombies and Cigarettes (Spain, 17 min)
Plague (UK, 17 min)
Bitten (UK, 6 min)
Arise (USA, 18 min)
Not Even Death (USA, 5 min)
Fear of the Living Dead (USA, 16 min)
Kidz (Canada, 9 min)
The Book of Zombie (USA, 64 min)
Disc 2
Zombie Harvest (UK, 11 min)
The Skin of Your Teeth (USA, 14 min)
Zomblies (UK, 47 min)
It Came from the West (Denmark, 16 min)
Paris By Night of the Living Dead (France, 12 min)
Savages (India, 39 min)
Dead Hungry (UK, 10 min)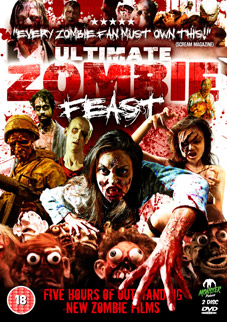 Ultimate Zombie Feast will be released on 2-disc DVD in the UK on 8th October 2012 by Monster Pictures at the RRP of £15.32.
No extras have been listed, but there are a lot of films here, so who's complaining?
Below is Monster Films' own promotional trailer: