When newlywed Molly (Gretchen Lodge) returns to her long-abandoned family home, she is plagued by a series of disturbing events that leave her shaken and defenceless. Reminders of a nightmarish childhood lead her to the shocking conclusion that, somewhere in the house, lies an supernatural spirit that will pull Molly and all those around her into darkness and death. Unable to escape, she must soon face her deepest fears and confront the evil that lurks in the dark.
Having landed with a bang as co-director of the hugely infuential and even more profitable The Blair Witch Project, Eduardo Sanchez has struggled since to deliver a worthy successor. The 2006 Altered and the 2008 Seventh Moon attracted mixed reviews, and the same has been true for 2011 Lovely Molly, but it has found itself some worthy supporters. Genre specialist Kim Newman called it "an effectively creepy haunted houser with a strong central turn by Lodge," while Quiet Earth said of it: "an unexpectedly gripping horror film that is part possession story and partly about the regression of a drug addict."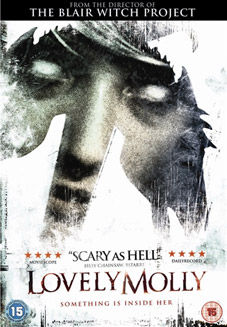 Lovely Molly will be released on UK DVD on 22nd October 2012 by Metrodome Distribution at the RRP of £15.99. The press release makes no mention of a simultaneous Blu-ray release, but on-line stores are taking orders. We can guestimate the RRP of this version at £19.99.
No extra features have been listed. Which doesn't mean there won't be any, of course.