"Park Row is one of the greatest love letters in the
history of film, and it's a love letter to journalism."
Quentin Tarantino
"Brimming with passion and conviction – just like its hero, and its creator."
Leonard Maltin
"Park Row continues to stun through its outrageousness, which
at inspired moments becomes a worship of pure energy."
Jonathan Rosenbaum, Film Comment
Iconic American filmmaker Samuel Fuller began his career as a tabloid reporter, and thrillingly drew on those skills and experiences in his extraordinary labour-of-love Park Row. An exhilarating tribute to the ideals of the free press and noble popular journalism, this two-fisted tale of battles on and off the printed page in 1880s New York is a major American rediscovery.
When Phineas Mitchell (Gene Evans), a visionary newspaperman, launches his own title The Globe, his eye-catching headlines and approach quickly catch fire with the New York readership. But less impressed is Charity Hackett (Mary Welch), proprietor of long-established rival The Star, and attempts to undercut The Globe soon escalate into all-out war.
Packing more dynamite into eight reels than most directors unleash over a career, Fuller's self-financed Park Row is a passionate, idiosyncratic work of gritty myth-making.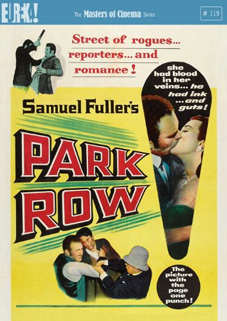 Park Row will be released on UK DVD by Eureka Entertainment as part of the Masters of Cinema series on 22nd October 2012 at the RRP of £17.36.
Featuring a new digital progressive transfer in the film's original aspect ratio and optional English subtitles for the deaf and hearing-impaired, the disc will have the following extras:
Isolated music and effects track
Original theatrical trailer
Illustrated booklet featuring the words of Fuller, rare archival imagery, and more
Further details to be announced nearer the release date!