Philadelphia based distributor Breaking Glass Pictures has announed a new venture in which it will open a United Kingdom distribution label. With a rapid release of three LGBT-themed titles in the 4th quarter, Breaking Glass UK will release one title per month of varying genres as it continues to grow internationally. Stemming from their fully developed International Sales Division, Breaking Glass Pictures' venture into the United Kingdom will be their first expansion into International Distribution.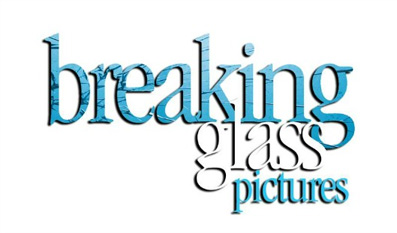 Named after David Bowie's 1995 hit Breaking Glass, CEO Rich Wolff and Co-President Richard Ross began Breaking Glass Pictures with expansion in mind. "It's what we've always been aiming for. We want to bring our success from the U.S. to the U.K."
"After celebrating our third anniversary in North America, Breaking Glass Pictures is proud to announce our launch in the UK through Lace Digital Media Group. We promise an exciting, diverse mix of product that will include LGBT, horror, documentary and star-driven independent fare," said Ross.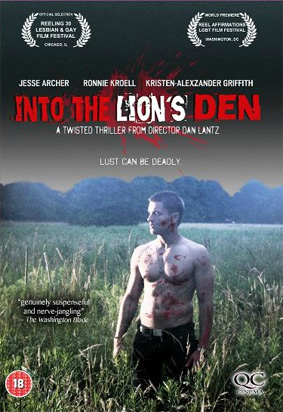 Breaking Glass UK will debut with the 8th October release of the gay-thriller Into the Lion's Den, starring gay icons Jesse Archer and Ronnie Kroell.
Bored with the Wes Hollywood gay scene, best friends Michael, Johnny and Ted have embarked on a cross-country road trip from LA to New York City. Though their friendship hits a few speed bumps along the way, the trio decides to have one last hurrah during their final night on the road. That s when fate brings them to the Lion s Den, a secluded backwoods bar where not everything is at it seems. As the three out-of-towners toast the end of their journey, someone at the bar is watching them and setting a deadly trap. Now, as closing time draws near, a night of unspeakable horrors is about to begin...
Jesse Archer (Violet Tendencies, Going Down in La-La Land) and Ronnie Kroell (Eating Out: Drama Camp, Bravo's Make Me a Supermodel) headline in this bold, uncompromising thriller that plunges into the depths of human depravity.
Extra features will include:
Behind the Scenes featurette
Blooper Reel
Deleted / Extended scenes
Director commentary
Official trailer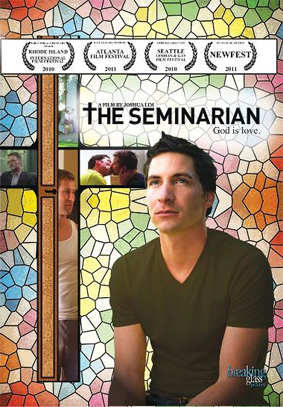 Releasing on 22nd October, Breaking Glass UK will examine the complex relationship between sexuality and religion in The Seminarian – the story of one closeted seminary student torn between his love of God and the love of his life.
Ryan is a closeted student in his final semester of seminary studies. Despite his school's hostile stance towards homosexuality, Ryan has two gay classmates, Gerald and Anthony, in whom he secretly confides. He is also close to his religiously devout mother who, as things stand, is unaware of his sexual orientation.
Ryan needs to complete a solid theological thesis in order to continue doctoral work at the university of his dreams. As he works on his thesis The Divine Gift of Love, Ryan begins a relationship with Bradley a guy he has met on the internet who seems perpetually unable to commit himself. Ryan confides in Gerald and Anthony, only to learn about their romantic struggles as well. Consequently, Ryan questions his views on God's gift of love.
During this volatile time, with the pain of unrequited love and his inability to share his fears with his mother deepening, Ryan struggles with finishing his thesis and holding on to his faith in love.
Extra features will include:
Audio commentaries with cast and crew
Interview with the star Mark Cirillo
Q&A session hosted by Bruce Vilanch on Atlantis Cruise screening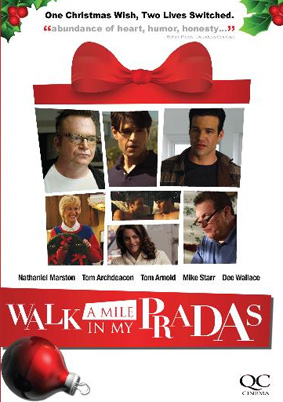 And just in time for the holidays, on 3rd December, Breaking Glass UK will release Walk a Mile in My Pradas.
The yuletide is anything but gay when macho construction worker Tony learns his latest project will put him under the supervision of Steve, an openly gay man. After the tension builds between the two co-workers, they finally confront each other at a holiday party and unwittingly cast a Christmas spell that switches their sexual orientations. Now, Tony must scramble to straighten out in time for his wedding but not before he walks a mile in Steve's shoes.
With an ensemble cast featuring Tom Arnold (True Lies, Roseanne), Dee Wallace (E.T., The Frighteners), Mike Starr (Dumb & Dumber), Nathaniel Marston (One Life to Live) and Tom Archdeacon (Days of Our Lives, J. Edgar), Walk a Mile in My Pradas is a heartwarming Christmas comedy that puts a new spin on the classic role reversal storyline.
Extra features will be:
Photo Gallery
Behind-the-scenes footage
Bonus footage
All three discs will retail at £15.99 apiece.