In recent years, Chinese director Jia Zhang-ke has made his name with strikingly individual works such as The World / Shijie (2004), Still Life / Sanxia haoren (2006) and 24 City / Er shi si cheng ji (2008). But previous to this had established himself as a filmmaker of note with works like Pickpocket / Xiao Wu (1998), Platform / Zhantai (2000) and Unknown Pleasures / Ren xiao yao (2002). Daring, mesmerising and utterly original, these three films form a loose trilogy, based around the monumental change that has been witnessed by Chinese society over the last 30 years.
Combining elements of magical realism with a deep vein of heartfelt humanism, these tales of modern longing, loss and loneliness are both groundbreaking works of cinematic art and priceless social documents that have seen him lauded by critics and festival audiences across the world.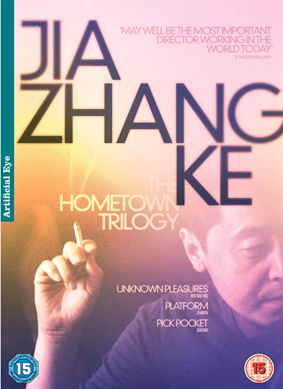 Now Artificial Eye have brought these three films together in a single box set titled Jia Zhang-Ke – The Hometown Trilogy, which will be released on 3-disc UK DVD on 26th November 2012 at the RRP of £29.99.
Described by Sight & Sound as "One of the most impressive Chinese films of the 90s," Pickpocket is the story of Wu, a thief trying to come to terms with a life defined by loneliness and social imobility. Platform, which i-D Magazine called "A masterpiece from a genuine film artist," follows the fortunes of an amateur theatre group as their fate mirrors that of the general population during a time of great socio-economic change. Unknown Pleasures tells the story of Bin Bin and Xiao Ji, two unemployed slackers facing change in their social and personal situations. The Independent said of it: "Fantastically talented director Jia Zhang-Ke has cemented his position at the forefront of modern Chinese cinema with this distinctive, poignant and moving film about isolation and alienation."