Following the announcement late last week that Excision will receive its UK premiere as the opening film at this year's FrightFest Halloween All-nighter, which returns to the Vue in London's Leicester Square on Saturday October 27th, Monster Pictures have confirmed that the film will be released on DVD & Blu-ray on 12th November.
Excision is the story of Pauline (AnnaLynne McCord), a delusional teenage outcast. Pauline picks scabs. Pauline dissects road kill. Pauline fantasizes about performing surgery on strangers. Her fascinations disturb her schoolmates and her parents, Phyllis (Traci Lords) and Bob (Roger Bart). No one understands Pauline except for Grace (Ariel Winter), her younger sister who suffers from cystic fibrosis. An outcast at school and at home, Pauline is convinced that the best way to repair her estranged relationship with her family is to perform a risky operation to save her sister's life...
Starring AnnaLynne McCord (90210) as Pauline, Excision continues a long tradition of horror films with compelling female leads, such as Scream, the original Halloween, the original A Nightmare on Elm Street, The Birds, and Psycho. Also starring Traci Lords (Cry Baby, Blade), Ariel Winter (Modern Family), Roger Bart (Desperate Housewives), Jeremy Sumpter (Friday Night Lights, Soul Surfer), Malcolm McDowell and John Waters (well you know who those two are, don't you).
Excision is Richard Bates Jr.'s directorial debut adapted from his highly praised short film, also entitled Excision, which played at over 50 film festivals internationally and garnered 24 awards from festivals such as Austin Fantastic Fest, Sundance Film Festival and Fantasia International Film Festival.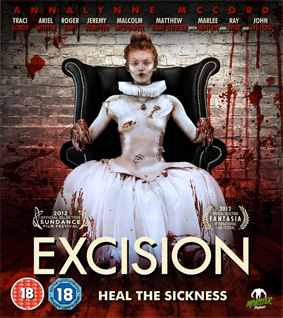 Excision will be released on UK DVD and Blu-ray on 12th November 2012 by Monster Pictures at the RRP of £15.32 for both formats.
Extra features will be:
Feature Length Commentary
Original Theatrical Trailer
Excision will be screening at the following UK festivals throughout October.
FRIGHTFEST, Leicester Square – 27 October 2012
Tickets for the London event cost £50 and go on sale on Monday Ist October. To book call 08712 240 240 or go online www.myvue.com/latest-movies/info/film/frightfest-all-nighter
Tickets can also be bought at the cinema.
Full Frightfest press release: http://www.cloutcom.co.uk/news/
CELLULOID SCREAMS Closing Gala, Sheffield Showroom – 28 October 2012 http://celluloidscreams.co.uk/?page_id=130
HORRORTHON, IFI, Dublin – 28 October 2012
DUNDEAD, at the DCA, Dundee – 28 October 2012
http://www.dca.org.uk/whats-on/films/dundead-halloween-horror-special-preview-screening-excision.html
TWISTED CELLULOID, IFI, Triskel Christchurch – 30 October 2012
FRIGHTFEST, Picturehouse, Cambridge – 3 November 2012
FRIGHTFEST, GFT, Glasgow – 3 November 2012
FRIGHTFEST, Empire, Sunderland – 3 November 2012
FRIGHTFEST, Empire Newcastle – 3 November 2012
FRIGHTFEST, Watershed, Bristol – 3 November 2012
http://www.watershed.co.uk/whatson/3834/film4-frightfest-allnighter-12/
and more to be announced.
London Preview Screenings at the PRINCE CHARLES CINEMA, Leicester Square, London from 28 October 2012 http://bit.ly/RQs4xR and screenings from 2 November 2012 at RITZY, Brixton & HACKNEY PICTUREHOSUE