Jean Renoir once said of Ernst Lubitsch (Ninotchka, The Shop Around the Corner, To Be or Not to Be): "He invented the modern Hollywood." And none of the director's films has had greater influence or impact than Trouble in Paradise. With his first comedy of the sound era, Lubitsch created one of cinema's supreme visions of shimmering romance and worldly sophistication.
When career thief Gaston Monescu (Herbert Marshall) meets glamorous pickpocket Lily (Miriam Hopkins), their love soon takes on a professional dimension as they initiate a plot to rob beautiful perfume magnate Mariette Colet (Kay Francis). But as Gaston gets ever closer to his intended prey, his romantic confusion, as well as the threat that his past will catch up with him, throws their plan into jeopardy.
A breathtakingly nimble and elegant examination of the perils of mixing "business" with pleasure, this gloriously adult and witty comedy features a peerless screenplay by Samson Raphaelson, effervescent performances by its stars (including Charlie Ruggles and Edward Everett Horton), and exquisite direction by the legendary Lubitsch.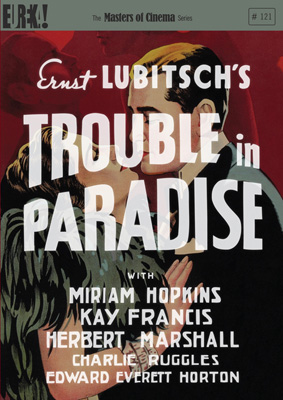 Described by Pauline Kael as "Perfection" and Empire as "The most sophisticated comedy ever produced in Hollywood," Trouble in Paradise makes its UK home viewing debut with a DVD release from Eureka as part of the Masters of Cinema series on 12th November 2012 at the RRP of £17.36.
With a new transfer made from a high-definition master in the film's original aspect ratio, the disc will have these extra features:
Illustrated booklet featuring the words of Lubitsch, rare archival imagery, and more
Further details to be announced nearer the release date