One of the key works of the early 1950s wave of Japanese films to first reach foreign markets, director Teinosuke Kinugasa's sumptuous period drama astonished audiences with its dramatic force and spectacular colour cinematography.

During feudal unrest in the 12th century, samurai warrior Moritō (Kazuo Hasegawa) manages to thwart a palace rebellion and save the life of the empress, using loyal subject Lady Kesa (Machiko Kyō) as a decoy. When Moritō is offered anything he should desire as reward, he requests Kesa's hand in marriage. Informed that she is already married to a fellow samurai (Isao Yamagata), he refuses to withdraw his request, setting in motion a tragic chain of events.

Three decades after the director's iconic A Page of Madness, Kinugasa's striking tale of feudal intrigue, political machinations, and erotic obsession won the Grand Prix at Cannes, two Academy Awards for Best Foreign Language Film and Costume Design, and has since been named by Martin Scorsese as one of the ten greatest colour achievements in world cinema.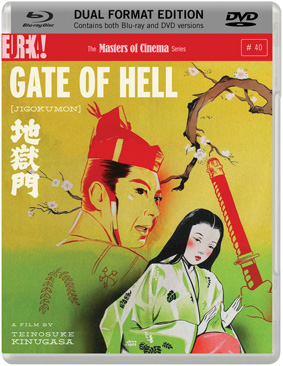 Gate of Hell's blazing palette is presented afresh by The Masters of Cinema Series in what we are assured is a magnificent new restoration, available for the very first time for home viewing in the UK, released in a Dual Format (DVD & Blu-ray) & DVD edition on 3rd December 2012 at the RRP of £20.42 for the dual format and £17.36 for the DVD.
Extra features will include:
Illustrated booklet featuring the words of Kinugasa, rare archival imagery, and more
Further details to be announced nearer the release date!