Terracotta Distribution have announced the upcoming release of a 2-disc set of films from award-winning Korean director Kim Ki-duk, creator of Spring, Summer, Autumn, Winter…and Spring and 3-Iron. This 2-disc DVD set will include Crocodile, Duk's rarely seen 1996 directorial debut which has never been released in the UK, the grittiest of his early work which led the path to series of intense and highly acclaimed features, and Arirang, the director's long anticipated documentary about his self-imposed exile, Winner of the Un Certain Regard Award at the 2011 Cannes Film Festival.
Kim Ki-duk's stunning debut Crocodile is a study of violence in South Korean society and seemingly unlike any other Korean films made before it. It depicts the life of violent thug, Crocodile, who lives with a peddling boy and an old man by the banks of the river Han in Seoul, a popular suicide spot. Homeless Crocodile makes a living by robbing the dead bodies of those who commit suicide by jumping into the river. One day, he saves the life of a suicidal young woman from drowning but only to use her for sex. Keeping her there, he develops an abusive relationship and, despite his temper and violence, a bond soon forms between the four of them. The film stars Cho Jae-hyeon (Wild Animals, The Isle, Bad Guy, Address Unknown, Sword in the Moon, The Kick).
Arirang marks Kim Ki-duk's triumphant return to cinema after an absence of three years, offering audiences a unique and indiscreet look at the man regarded as one of Korea's greatest living directors. While shooting a suicide scene for his last film, Dream, in 2008, the lead actress nearly perished and the incident triggered an emotional and creative breakdown for the director. As an act of self-administered therapy, Arirang takes playful liberties with the documentary form as Kim Ki-duk traces his experiences and mindset during this period of crisis. Arirang is a folk song and, according to some sources, Korea's unofficial national anthem. While ostensibly a love song, its theme of parting and sorrow provides a potent metaphor for Korea's suffering as a nation and its enforced division at the end of the Korean War.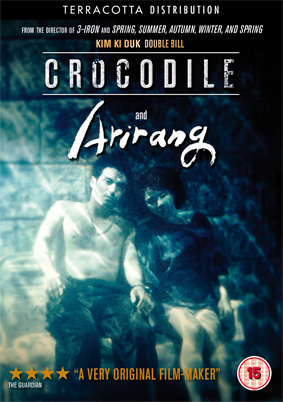 The Kim Ki-duk double bill of Crocodile and Arirang will be released on UK DVD as a 2-disc set by Terractotta Distribution on 12th November 2012 at the RRP of £19.99.
No extra features have been listed.