Struggling to make financial ends meet while studying to be a surgeon, talented medical student Mary Mason (Katharine Isabelle) finds herself reduced to applying for work at a local strip joint in order to pay off her mounting debts. During her interview, she is unexpectedly called upon to perform some illegal emergency surgery on one of the club's clients and is instantly rewarded with a significant cash payment.
Word of Mary's scalpel-work soon reaches one of the club's dancers, Beatress Johnson (Tristan Risk), who approaches her offering to pay handsomely for some off-the-books, extreme body-modification work on a friend. The ensuing surgery is a huge success and Mary's skills soon attract the attention of an underground network of high-paying clientele, all looking for someone to administer procedures and body-mod work unavailable through the usual legal channels.
However, the allure of the easy money and the increasingly bizarre work she is commissioned to perform begins to leave a mark on Mary, and when an incident involving the established surgeons she once idolized leaves her traumatised, "Bloody Mary", as she has come to be known, responds in the only way she knows how.
The Soska Sisters (aka The Twisted Twins), co-creators of the award winning, cult indie smash hit Dead Hooker In A Trunk make an impressive return with their second feature American Mary, a stylish, sexy, disturbing and darkly comic "body-mod" horror-thriller that some critics are hailing as the best and most genuinely original horror movie of the year.
Co-written and co-directed by Jen and Sylvia Soska and featuring an outstanding lead performance by Katharine Isabelle (Being Human; Freddie vs. Jason; Ginger Snaps) in the title role, American Mary is a provocative and thought-provoking combination of the horrors of a feminist Frankenstein with a fetishist twist and the visceral thrills of the "female revenge" genre. The film boasts a strikingly original script, laced throughout with a wicked sense of humour and a darkly erotic charge.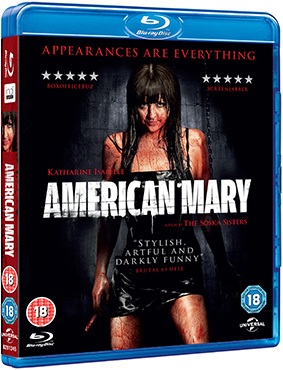 American Mary will be released on UK DVD and Blu-ray by Universal Pictures UK on 21st January 2013 at the RRP of £12.99 for the DVD and £15.99 for the Blu-ray.
Extra features will ionclude:
Behind the scenes with cast and crew
An American Mary in London (World Premiere at Film4 Frightfest, August 2012)