Stanley Kubrick's rarely seen debut feature tells the story of a war waged (in the present? in the future?) between two forces. In the midst of the conflict, a plane carrying four soldiers crashes behind enemy lines. From here out, it is kill or be killed: a female hostage is taken on account of being a potential informer; an enemy general and his aide are discovered during a scouting mission... What lies in store for this ragtag group of killers, between their perilous landing in the forest, and the final raft-float downstream... all this constitutes the tale of Kubrick's precocious entry into feature filmmaking.
Independently financed with contributions from Stanley Kubrick's family and friends in an era when an "independent cinema" was still far from the norm, Fear and Desire first saw release in 1953 at the Guild Theater in New York, thanks to the enterprising distributor Joseph Burstyn. Now, with this new restoration carried out in 2012 by The Library of Congress, a film that for decades has remained nearly impossible to see will at last appear in a proper release in the United Kingdom.
Bringing into focus for the first time the same thematic concerns that would obsess the director in such masterworks as Paths of Glory, Dr. Strangelove, and Full Metal Jacket, Fear and Desire marks the outset of the dazzling career and near-complete artistic freedom which to this day remains unparalleled in the annals of Hollywood history.
Stanley Kubrick said of Fear and Desire:
"The entire crew [...] consisted of myself as director, lighting cameraman, operator, administrator, make-up man, wardrobe, hairdresser, prop man, unit chauffeur, et cetera. The rest of the crew consisted of a friend of mine, Steve Hahn, who was an executive at Union Carbide and who took his holidays with us and knew something about electricity; another friend, Bob Dierks, who was the studio assistant at Look Magazine, helped me set up the equipment and put it away, and did a thousand other jobs; my first wife, Toba, who tried to cope with all the paperwork and minor administration; and three Mexican labourers who carried the cases around. Particularly in those days, before the advent of film schools, Nagra [sound-recorders], and lightweight portable equipment, it was very important to have this experience and to see with what little facilities and personnel one could actually make a film. Today, I think that if someone stood around watching even a smallish film unit, he would get the impression of vast technical and logistical magnitude. He would probably be intimidated by this and assume that something close to this was necessary in order to achieve more or less professional results. This experience and the one that followed with Killer's Kiss, which was on a slightly more cushy basis, freed me from any concern again about the technical or logistical aspects of filmmaking."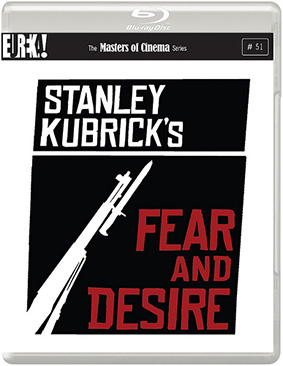 Fear and Desire will be released for the first time ever on DVD and Blu-ray in the UK from Eureka as part of the Masters of Cinema series at the RRP of £18.37 for the DVD and £20.42 for the Blu-ray.
Featuring a new HD restoration of the film by The Library of Congress, presented in 1080p on the Blu-ray, and optional English SDH subtitles for the deaf and hard-of-hearing, both discs will have the following bonus features:
Stanley Kubrick's complete early shorts, made in the run-up to Fear and Desire, presented completely for the first time on an official release: Day of the Fight, Flying Padre & The Seafarers

A new and exclusive video introduction to the films by Kubrick scholar, film-critic, and Cahiers du cinéma American correspondent Bill Krohn, shot in LA in November 2012

A packed booklet featuring new and exclusive essays on Fear and Desire and the early shorts by Kubrick scholar, professor, and film critic James Naremore