Killer fish are the order of the day in Joe Dante's original cult classic Piranha, which comes to Blu-ray for the first time in January from Second Sight Films.
When two teen hikers disappear around Lost River Lake, private detective Maggie McKeown teams up with the local drunk to search for clues. Their investigation takes them to a secret military base where they inadvertently let loose an experimental strain of mutant piranha. Now the guests at every resort downriver are on the menu.
From the director of The Howling and Gremlins and starring Bradford Dillman (Sudden Impact), Heather Menzies (Logan's Run), Kevin McCarthy (Invasion of the Body Snatchers), Keenan Wynn (Once Upon a Time in the West), Barbara Steele (The Pit and The Pendulum), Dick Miller (oh come one, you all know who he is) and cult director Paul Bartel (Death Race 2000, Eating Raoul), Piranha was one of the first of the wave of energetic, comedy-tinged American horror films that appeared in the late 70s and early 80s that included The Howling, An American Werewolf in London and Alligator.
Produced by legendary B-movie master Roger Corman, Piranha was co-written by the great John Sayles (also one of the talents behind The Howling and Alligator, as it happens), who also makes an amusing uncredited appearance.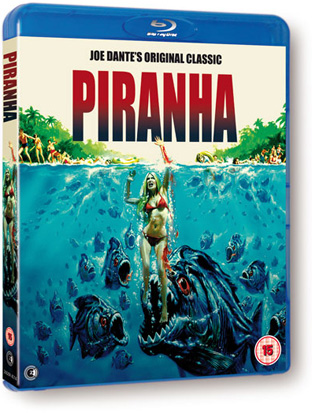 Piranha will be released on UK Blu-ray on 28 January 2013 by Second Sight Films at the RRP of £15.99.
Extra features will include:
Audio Commentary with Joe Dante and producer Jon Davison
Behind the Scenes
Making of
Outtakes
Stills Gallery
Radio and TV Spots