Natasha Parry (Romeo & Juliet, Oh, What A Lovely War!) stars as Eve, whose marriage to Phil (Donald Houston – The Longest Day, Room at the Top) is imperilled when she takes a different partner for an upcoming dance contest. Her reasoning is that Phil is a lousy dancer, but she loves him all the same; Phil, however, is the jealous type, who doesn't quite see things Eve's way. Singer Petula Clark (Goodbye Mr Chips, Finian's Rainbow) plays Georgie, whose ambition is to become a dance champion with her partner, Peter (Douglas Barr – Hue and Cry).
Co-written by Alexander Mackendrick (Ladykillers, The Man in the White Suit, Whisky Galore!) and directed by Charles Crichton (The Lavender Hill Mob, The Titfield Thunderbolt) the 1950 Dance Hall is a rarely seen Ealing Studios production whose cast includes a number of other familiar faces, including Bonar Colleano, Diana Dors, Sydney Tafler, Gladys Henson, Dandy Nichols and Jane Hylton.
"The storyline is somewhat thin," says Britmovie, "and the purpose of the film is to get behind the scenes of a big dance hall and show something of the life it represents."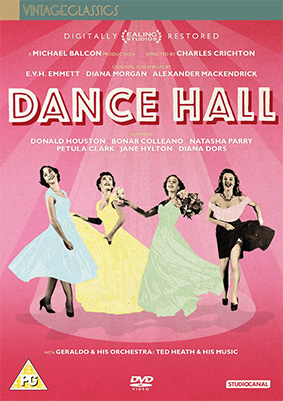 Dance Hall will be released on UK DVD and Blu-ray on 21st January 2013 by Studiocanal at the RRP of £15.99 for the DVD and £19.99 for the Blu-ray.
Featuring a digitally restored transfer of the film, both discs will have the following extra features:
Making Of featurette
Restoration Comparison
Trailer