Desperately in need of a best seller to revive his struggling career, true crime writer Ellison (Ethan Hawke), moves his family to the scene of his most recent story; the unsolved, gruesome murder of a loving, happy suburban family.
Shunned by the local community and strained by his obligations to his family, the discovery of a batch of home movies in the attic offers Ellison shocking proof to the crime he is investigating. Ellison notices the same unidentified figure appearing in each of the 8mm films, leaving him convinced that all the incidents are linked by a truly bizarre connection. As his investigations uncover the terrifying truth he starts to lose his grip on reality and it soon becomes clear that he is placing his own family in harm's way.
With precious few modern horror movies living up to even optimistic hopes, it's easy to be cynical about the press release claim that Sinister is "A supremely creepy horror, full of dread, shocking images and almost unbearable tension, this one is pretty much guaranteed to give audiences nightmares." Guaranteed? Are you sure? As it happens, Sinister is one modern horror that does appear to be living up to the hype, being described by Dread Central as "One of the most memorable horror films of the year" and the Total Film as "Compelling and unnerving." I'll save my own views for the eventual review.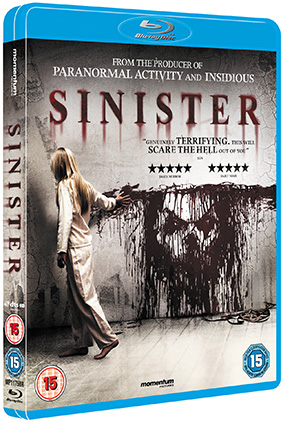 Sinister will be released on UK DVD and Blu-ray on 11th February 2013 by Momentum Pictures at the RRP of £17.99 for the DVD and £19.99 for the Blu-ray.
Extra features will include:
Director's Commentary
Commentary with Writers Scott Derrickson and C. Robert Cargill
True Crime Authors Feature
Living in a House of Death Feature
Fear Experiment
Trailer