Over the course of a single day, Monsieur Oscar travels by limousine around Paris to a series of nine "appointments," transforming into a new character at each stop. Picked up in the morning by Céline, his trusty chauffeur, Oscar begins the day as a captain of industry before becoming a disabled, old gypsy woman begging for spare change on a bridge over the Seine.
Oscar's seven proceeding incarnations call on what seem to be arbitrary locations throughout the day and night, including a video production facility, the Pere-Lachaide cemetery and a decaying Right Bank department store. With the aid of Céline and his dependable motor, Oscar encounters many bizarre situations and individuals, changing faces and never stopping once, until he fulfils his appointments.
The first full-length feature for 12 years from visionary filmmaker Leos Carax (Boy Meets Girl, Mauvais sang, Les amants du Pont-Neuf, Pola X), Holy Motors was a Palme d'Or nominee and winner of the Prix de la Jeunesse at the 2012 Cannes Film Festival, winner of the Gold Hugo for Best International Feature and Silver Hugos for Best Actor (Denis Lavant) and Best Cinematography (Caroline Champetier and Yves Cape) at the Chicago International Film Festival, and winner of the Best Director, Best Film and Critic's Award at the Catalonian International Film Festival.
It's also prtoved something of a critical hit. The Guardian described it thus: "Part horror movie, part noir-ish crime thriller; part romantic drama, part musical; part comedy, part sci-fi fantasy: it is a film that is almost as impossible to describe as it is to resist. All in all, it is essential viewing for everyone who enjoys the magic of the movies." You won't have to look far to find similarly enthusiastic responses.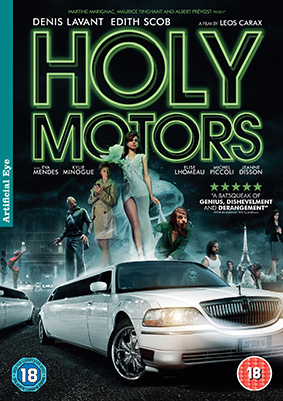 Holy Motors arrives on UK DVD and Blu-ray on 28th January 2013 from Artificial Eye.
The RRP of both discs and extra features have yet to be confirmed.