Graham Chapman, probably best remembered as 'the dead one from Monty Python', writes and stars in the animated movie of his own life story, A Liar's Autobiography (full title A Liar's Autobiography: The Untrue Story of Monty Python's Graham Chapman). He was born, he went to Cambridge and met John Cleese, he smoked a pipe, he became a doctor, he became a Python, he decided he was gay (well, 70/30, according to a survey he did on himself), he got drunk a lot, he stopped being drunk, he made some films, he had some sex (actually, a lot), and moved to Los Angeles. Finally, he was whisked up into space by aliens (although that might have been in a film).
Although Chapman selfishly dropped dead in 1989, he had taken the trouble to record himself reading his book, A Liar's Autobiography – and those recordings have now ingeniously been used to provide Chapman's voice for the 3D animated feature of the same name. Fellow Pythons John Cleese, Terry Jones, Michael Palin, and Terry Gilliam also turn up, playing themselves and other characters, along with a few surprise guests.
Not a documentary, not a Monty Python film, A Liar's Autobiography is Chapman's own take on his bizarre life and his search for self-knowledge. Incredible, yes. Surreal, certainly. True? Who knows? At his memorial service, John Cleese called Chapman "a freeloading bastard". Now, as the film re-unites Chapman with Cleese, Jones, Palin, and Gilliam for the first time in 23 years, he is set to earn a new title – the most prolific corpse since Elvis.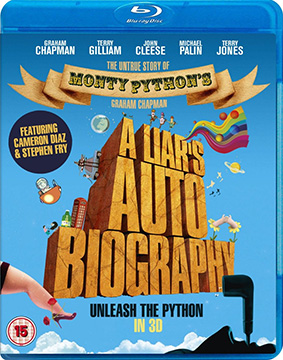 A Liar's Autobiography will be released on UK DVD and Blu-ray on 18th February 2012 by Trinity at the RRP of £17.99 for the DVD and £19.99 for the Blu-ray.
And yes, there are special features:
Private Super 8mm footage of Graham Chapman over the years including the very first moments of the Footlights club with John Cleese – never seen and exclusive (20 mins)

Anatomy of a Liar – An exclusive TV documentary about Graham Chapman featuring unseen interviews with the Pythons as well as unique archive footage (47 mins)

6 x Behind The Scenes of the voice recording and the animation (12 mins)

2 x Student Animations – Short animations created during the open competition selection process for choosing animators to work on the film

Trailer