Three more classic and top quality British films from the much-loved and fondly remembered Children's Film Foundation (CFF) are released together on DVD on 18th February 2013 in The Race is On.
In this  second   BFI collection  of  CFF films, a young Michael Crawford stars in Soapbox Derby (1957), there is the imaginative, air-borne adventure The Sky-Bike (1967) and cult favourite Sammy's Super T-Shirt (1978), one of the most sought-after CFF gems, is finally available to be enjoyed again by its original fans and a new generation of youngsters.
For over 30 years the Children's Film Foundation produced quality entertainment for young audiences, employing the cream  of British filmmaking talent. After many years out of distribution, the BFI is releasing a selection of the films in specially curated and themed  DVD editions, newly transferred from the best available elements held  in the BFI National Archive.
In one  of his earliest acting  roles, aged  about  15, Michael Crawford (Some Mothers Do 'Ave 'Em, Phantom of the Opera) stars in Soapbox Derby as Peter, leader of the Battersea Bats. Determined to win the soapbox derby go-kart race, Peter enlists  the brains of the bunch to design a superfast car, and persuades their ace driver to take the wheel. But then local rivals, the Victoria Victors, get in on  the act...  Filmed on location  in south London, this action-packed adventure features an excellent slapstick performance from
Denis Shaw (The Colditz Story, Curse of the Werewolf).
Writing for the  DVD booklet,  Michael Crawford says what great fun it was making the film: "We were all required  to do numerous 'daredevil' stunts...being paid to do things that you would ordinarily be arrested for!"
In The  Sky-Bike,  all Tom Smith can think about is becoming a pilot. When he accidentally stumbles across a prototype man-powered flying machine, he convinces its eccentric inventor, Mr Lovejoy, to let  him  help get it off the ground. Working in secret, the two prepare their 'sky bike' for a high-stakes race. Liam Redmond  (Night of the Demon) plays the mastermind behind the flying machine.
Despite his size, 12-year-old Sammy, star of Sammy's Super T-Shirt, has set his heart on winning the Junior Superstar Challenge Cup track  race. His secret weapon, a lucky tiger t-shirt, takes on a life of its own when it accidentally becomes  part of a top-secret scientific experiment, which gives its wearer awesome super-strength. Featuring a comic double-act by Richard Vernon (Goldfinger) and Julian Holloway (Carry On, Disney's A Christmas Carol) as the  nefarious  scientists, this is one of the  best-remembered CFF productions, which has even generated an online  petition for its release.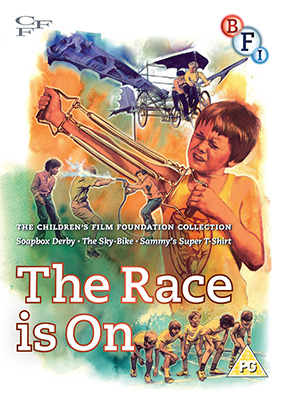 The Children's Film Foundation Collection – The Race is On will be released on UK DVD on 18th February 2013 by the BFI at the RRP of £19.99.
The release will include an illustrated booklet with essays  by Andrew Roberts and Vic Pratt and a note by
Michael Crawford.
We've a short clip of Sammy's Super T-Shirt: