Kevin McKidd  (Trainspotting; The Acid House; Rome) plays newspaper reporter and family man Dan Vassar. Happily married to Kate (Gretchen Egolf – The Talented Mr Ripley) with a young son Zack, life is pretty good for him right now. But things are set to change when he inexplicably starts to jump backwards through time. He uses his newfound powers to change the destiny of people he encounters, but sometimes with consequences.
Dan's time-travelling starts to effect his family life and his work and his brother Jack (Reed Diamond – Homicide: Life on the Street), a police detective becomes suspicious of his strange behaviour. When his jumps reunite him with his long-lost fiancée Livia (Moon Bloodgood – The Sessions), who had supposedly died in a plane crash, the mystery deepens and present day life becomes even more complicated.
Created by Emmy Award-winning writer-producer Kevin Falls (The West Wing) Journeyman is a science fiction time-travel adventure drama that has found a small but devoted following (check out the comments and rating on its IMDb page), too small in fact to see the series continued beyond its first 13 episodes – although not officially cancelled, the decision not shoot the second half of what was expected to be a 26-show run and the fact that five years have passed since then does seem to suggest its time is up.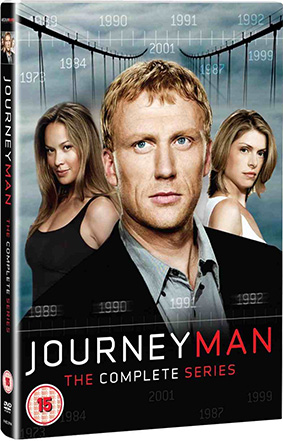 Journeyman – The Complete Series makes its DVD debut as a 4-disc set on 29th April 2013 courtesy of Mediumrare at the RRP of £29.99.
And yes, there are some extra features:
Going Off-Course – The Making Of Journeyman (40 Minutes)
The Back Nine – Featurette (15 Minutes)
2 audio commentaries
Blooper Reel
Stills Gallery