Tom Courtenay delivers a star-making turn as William Terrence Fisher ('Billy Liar') in one of the most memorable and universally acclaimed films of the 60s.
Running from an unsympathetic working-class family, a pair of demanding fiancées and an insecure job at an undertakers, Billy escapes, Walter Mitty-like, into a world of fantasy where he can realize his dream ambitions. As work and family pressures build to new intolerable levels, Liz (an early, charismatic turn from Julie Christie), enters his drab life and offers Billy the one real chance he'll ever get to leave the past behind.
Scripted by Keith Waterhouse from his own novel, and sensitively directed by John Schlesinger (Midnight Cowboy, Marathon Man), Billy Liar is one of the few comedies of the British New Wave, marrying visual and verbal wit with a rather poignant rumination on the futility of dreams.

Celebrating the 50th anniversary of the screen adaptation of Billy Liar, the British Library will hold an exclusive London screening of the digitally restored DVD, introduced by close friend of Keith Waterhouse, Sir Michael Parkinson, on Friday 26th April. The archive of Keith Waterhouse was donated to the British Library last year and this April the Library will publish two new Waterhouse titles.

The newly restored version of Billy Liar will also screen as part of this year's Bradford International Film Festival, hosted by Bradford UNESCO City of Film on Sunday 14th April.
David Wilson, Director of Bradford UNESCO City of Film said: '
"Billy Liar is a key component within Bradford's rich film heritage and formed part of our bid to become the world's first UNESCO City of Film. It is still an important reference within film studies and I am really pleased that the 50th Anniversary edition on DVD/ BLU-RAY will bring the film to whole new audience."
On Saturday 13 April Tom Courtenay will also be the festival's guest of honour where he will receive the Lifetime Achievement Award. Click here for more details.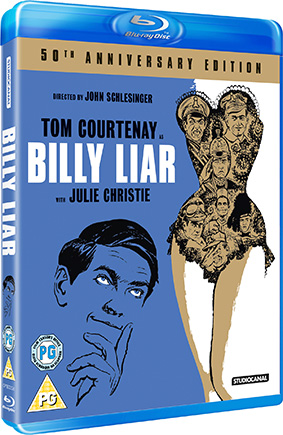 Billy Liar will be released on UK Blu-ray and DVD on 6th May 2013 by Studiocanal at the RRP of £19.99 for the Blu-ray and £15.99 for the DVD.
Special features are:
Remembering Billy Liar with Tom Courtenay and Helen Fraser
Interview with Richard Ayoade
A look through the Keith Waterhouse Archive with British Library Curator Zoe Wilcox
Interview with Saint Etienne's Bob Stanley
Stills Gallery
Trailer