Eight-year-old Ana (the spellbinding Ana Torrent from The Spirit of the Beehive) lives in a mysterious mansion in central Madrid, cut off from the roaring traffic and urban bustle by a high-walled garden. Recently orphaned, she believes herself to have poisoned her cold, authoritarian father (Héctor Alterio), a high-ranking military man whom she blames for the death of her much adored, musically gifted mother (Geraldine Chaplin in a performance of exquisite tenderness). Now cared for, along with her two sisters, by her uptight, scolding Aunt Paulina (Mónica Randall), Ana has ample opportunity to observe the frustrations – emotional, sexual, and professional – of her adult female relatives. This is a world of secrets and lies in which only the family maid Rosa (Florinda Chico) will respond frankly to questions about sex or the Spanish Civil War.
One of cinema's most hauntingly vivid depictions of a child's fantasy-imbued reality, the 1976 Cría cuervos is a darkly unsettling and deeply touching film which stands as a landmark of Spanish cinema. It was nominated for a Golden Globe and won the Grand Prize at Cannes in 1977. It enjoyed a highly successful BFI theatrical release in June 2011 when it received 5 star reviews.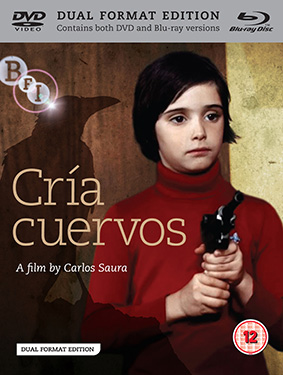 Cría cuervos will be released on UK dual format (DVD and Blu-ray) on 27th May 2013 by the BFI at the RRP of £19.99.
Extra features will include:
Portrait of Carlos Saura (José Luis López-Linares, 2004, 63 mins, DVD only)

On-stage interview with Carlos Saura (2012, 23 mins, DVD only)

Optional alternative English language soundtrack

Original theatrical trailers

Illustrated booklet featuring new essays and notes from Maria Delgado, Mar Diestro-D6pido and Michael Brooke