To the Wonder, the latest film from celebrated maverick Terence Malick (Badlands, Days of Heaven, The Thin Red Line, Tree of Life), has been announced for a UK DVD, Blu-ray and EST download release on 17th June 2013 by Studiocanal.
The film is centred on Neil (Ben Affleck, Argo), a man who is torn between two loves: Marina (Olga Kurylenko, Quantum of Solace), the European woman who comes to United States to be with him, and Jane (Rachel McAdams, Midnight in Paris), the old flame he reconnects with from his hometown. Neil's doubts about his life and loves are reflected in the crisis of faith experienced by Father Quintana (Javier Bardem, No Country for Old Men, Skyfall), who only sees pain and the loss of hope in the world.
Terrence Malick is renowned for making unique films using unconventional methods, and To the Wonder is no different. Here Malick explores how love and its many phases and seasons – passion, sympathy, obligation, sorrow, indecision – can transform, destroy and reinvent lives. The film is also the third collaboration between Terrence Malick and director of photography Emmanuel Lubezki, after The New World and The Tree of Life.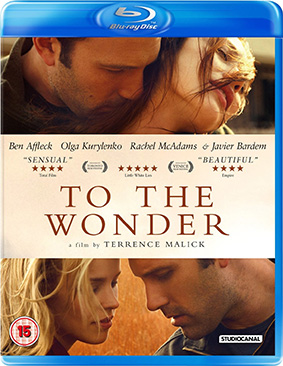 To the Wonder will be released in the UK on 17th June 2012 by Studiocanal on DVD at the RRP of £17.99, on Blu-ray for £22.99 and on EST download (price to be confirmed).
If you wantb the extras, you'll need the DVD or Blu-ray, and they are:
Making-of documentary
UK exclusive Interview with Olga Kurylenko