Frank Carveth (Art Hindle) is becoming increasingly concerned about his ex-wife Nola's (an excellent Samantha Eggar) secretive treatment at the sinister 'Somafree Institute of Psychoplasmics'. Headed by cult figure Dr Raglan (Oliver Reed on splendid form), his controversial and extreme methods seek to unleash his patients rage, which take on physical manifestations. As Nola's increasingly psychotic anger is vented during her sessions, brutal murders befall those at whom it's directed. When Frank's daughter is abducted he is led to Raglan's Institute and a terrifying, repellent final confrontation, renowned as one of the most notorious scenes in horror cinema.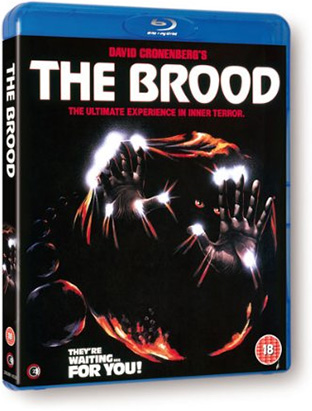 A superb early feature from Canadian maestro David Cronenberg, one tinged with disturbingly autobiographical overtones, is to get a DVD and long-awaited Blu-ray release on 8th July 2013 from Second Sight Films at the RRP of £15.99 for the DVD and £19.99 for the Blu-ray.
Both will include the following fine collection of extra features:
Meet the Carveths – Art Hindle & Cindy Hinds interviewed by Fangoria Editor Chris Alexander

The Look of Rage – Interview with cinematographer Mark Irwin

Producing The Brood – Interview with producer Pierre David

Character for Cronenberg – Interview with actor Robert A. Silverman

Cronenberg: The Early Years – Writer-director David Cronenberg discusses how he broke into filmmaking
You can read our review of the film and the MGM US DVD here.