Twelve-year-old Mathilda lives within the desperate confines of a squalid New York apartment block. On returning form a shopping trip, Mathilda finds that her abusive, dysfunctional family (and her younger brother) have been slaughtered by a psychotic, drug dealing police officer. In fear for her life she takes refuge with her reluctant, mysterious and solitary neighbour. His name is Leon and he's one of the world's deadliest assassins. And while Mathilda begins to teach him how to live, Leon begins to teach her how to kill.
Jean Reno (The Big Blue, Ronin), Gary Oldman (Tinker, Tailor, Soldier, Spy, The Dark Knight Rises) and Natalie Portman (Black Swan, V for Vendetta) in her film debut, all star in this highly influential, seminal '90's action/thriller. Directed by Luc Besson (Subway, Nikita, The Fifth Element), Leon is the controversial and unforgettable story of an unlikely friendship within a brutal and violent world.
But you knew all this, right? The 1994 Léon remains possibly director Besson's most popular film and is certainly one of our favourites, particularly in its longer Director's Cut. In 2009 it was released on UK Blu-ray by Optimum Home Entertainment – now StudioCanal – and looked pretty darned good, although there was some fan disagreement on this due to some visible crush at both ends of the contrast range. The release included both the original theatrical cut and the director's cut of the film, plus a sprinking of interesting extras,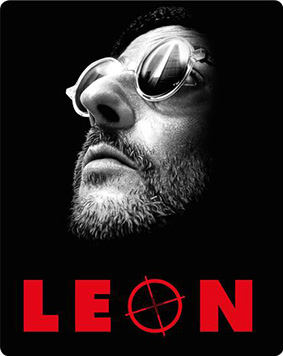 Now StudioCanal have announced a 20th Anniversary Special Edition Steelbook edition of the film, but whether it deserves that Special Edition moniker is another matter. Once again this is a single disc Blu-ray featuring both the theatrical cut and the director's cut, presumably with the same transfer as the previous release, though it does feature two new and exclusive extras:
Interview with leading man Jean Reno

Interview with composer Eric Serra
What isn't listed on the press release are the extras from the previous Blu-ray edition, so a lot will depend on the length of these two interviews. And given that the RRP is £29.99 (well it is a Steelbook edition...), they'd better be good.