Legends abound of 'The Hellgate Hitchhiker'. The story has it that a beautiful young woman was once brutally defiled and murdered by a biker gang. Now, returned from the dead, she wanders the roadside luring unsuspecting motorists to their doom. Refusing to heed the warnings of locals, a group of college friends set out on a cross-country road trip looking for fun and frolics. But they get much more than they bargained for when they wind up in the abandoned mining town of Hellgate and hemmed in by hordes of the undead!
Providing gore and gags in equal measure, the 1990 Hellgate has a shockingly low IMDb user score and some spectacularly negative user reviews, but has found the odd cheerful supporter, although not perhaps for the expected reasons, with Slasher Studios.com summing up the general feeling by calling it "So bad, it's amazing." Others have been a lot less charitable. Oh come on, aren't you just a little bit curious?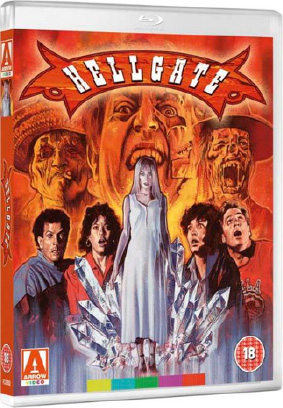 None of which has detered cult film specialists Arrow Films, who have announced that Hellgate will be getting a limited edition UK dual format release (DVD and Blu-ray – 1000 copies only!) on 27th January 2014 at the RRP of £19.99.
The release will have the following extras:
Road to Perdition, B-Movie Style: An extensive interview with Hellgate director William A. Levey

Alien Invasion, Blaxploitation and Ghost-Busting Mayhem: Scholar, Filmmaker and fan Howard S. Berger reflects on the intriguing film career of William A. Levey

Video Nasty: Kenneth Hall, writer of the Puppet Master series, speaks about the direct-to-video horror boom that allowed Hellgate to become a classic of the cassette rental era

Reversible sleeve featuring original and newly commissioned artwork by Graham Humphreys

Collector's booklet featuring writing on the film by Lee Gambin, illustrated with original artwork and stills