A young journalist with an appetite for controversy, follows the trail of a strange government research chemical that might have caused the disappearance of her close friend. After tracing the substance to the desert ranch of an infamous retired novelist, she's drawn into an experience of terror and frightening entities that she cannot escape.
The labyrinthine trail of evidence leads her into the disturbing world of black ops chemical projects, unexplained radio transmissions, and shadowy disfigured entities in the blackness of night. Anne will do anything to uncover what lies behind her friend's disappearance. But to her horror, she discovers that it wants to find her too.
Allegedly based on 'real documents' (as opposed to fake documents? - a very likely story indeed), Banshee Chapter blends the suspense-driven horrors of the 70's with the creepy mythology of J-horror in a found footage horror that's actually found some favour with horror press and fans, with Kim Newman calling it "A solidly unsettling picture," Dread Central describing it as "Enthralling, enjoyably scary and very well crafted," and Little White Lies assuring us that "It is batshit crazy – but also proper, jump-out-of-your-seat scary." It was also winner of Total Film's 'Scariest Movie' Award at Film4 Frightfest 2013.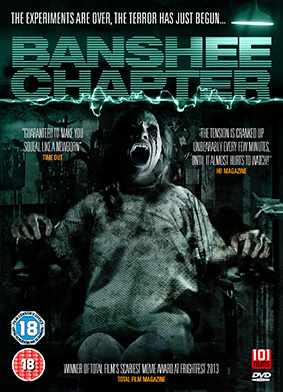 The debut feature of Blair Erikson and starring Katia Winter (Dexter, the Sleepy Hollow TV series), and the fab Ted Levine (The Silence of the Lambs, Shutter Island, Monk), Banshee Chapter will be released on UK DVD on 27th January 2014 by Intense Distribution & 101 Films at the RRP of £15.99.
Extra features will include:
Behind the scenes

Trailer