Working in a remote outpost of the German Alps, technician Janek and a cohort of scientists are stunned to discover a bleeding blood glacier parked high up in the mountain range. As the gory infected berg melts the blood attracts the local wildlife only to transform them into hellish hybrids and monstrous mutations.
As this fusion of nightmarish creatures evolves in the life-giving mountain air, a second group including Janek's ex-girlfriend advance towards the base in what will become a showdown of humans vs. nature upended into giant wood lice, beetle-foxes, crossbreed flying predators and much, much worse.
Hve you ever wondered what happens when you cross a wasp with a crow? Well Blood Glacier (aka The Station, original title Blutgletscher – it is an Austrian film) answers this very question with grotesque abandon. With flesh-eating ibexes and oversized wood lice aplenty, all inhabiting the surroundings of a blood-ridden iceberg (blood berg if you will), Blood Glacier apparently went down a treat at its recent premiere at the Fightfest 2013 All-Nighter and was descrbed by the venerable Kim Newman as "A good, gruesome eco-horror movie with properly monstrous monsters and many nasty turns."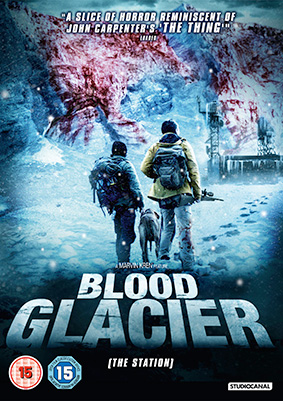 Blood Glacier will be released on UK DVD on 27th January 2014 by StudioCanal at the RRP of £15.99.
The slim extra features will be: