It's Christmas Eve, and a soon-to-be-shit-canned maintenance gopher (Dan Palmer) is changing light bulbs and cleaning toilets instead of drinking egg nog and making out with drunk receptionists at the annual office party. Unfortunately for this forlorn floor-sweeper, he chooses to use the ladies restroom the very second a zombie outbreak occurs. Will our nameless hero bowl us over and flush away the undead or (like in his pre-apocalypse life) simply remain... stalled?
The Evil Dead meets Phone Booth (claims the press release) in Christian James' surprisingly likeable comedy horror was acclaimed by Kim Newman as "A worthy successor to Shaun of the Dead," while Ain't it Cool News assured us that "There's a lot to love about Stalled."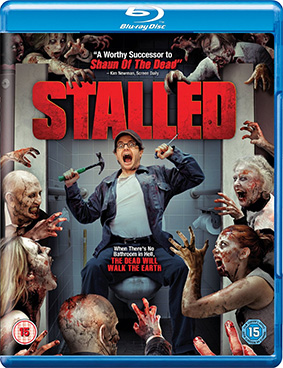 Stalled will be released on UK DVD and Blu-ray on 17th February 2014 by Matchbox Films at the RRP of £15.99 for the DVD and £19.99 for the Blu-ray.
No extra features have been detailed as yet. Be a shame if there are none. Come on, even we have a trailer.