A peaceful household is disturbed by the return of a mother's (Youn Yuh-Jung – The Housemaid, Behind the Camera) three grown children one after the other. The first and eldest is unemployed freeloader Han-mo (Yoon Je-Moon – Mother, The Good The Bad The Weird), second is failed film director In-mo (Park Hae-Il – The Host, Memories of Murder), and last is double divorcée Mi-yun (Kong Hyo-Jin – Guns & Talks, Volcano High). Having come back home after leaving the nest years before, they try their best to accommodate each other but constantly bicker and fight nonetheless. Thrown into the mix is Mi-yun's teenaged daughter from one of her failed marriages, Mi-kyung. How will they ever manage to co-exist under one roof and hold on to a shred of dignity?
The latest film from Korean director Song Hae-Sung, previously responsible for the solidly made but unneccesary remake of John Woo's A Better Tomorrow, the 2013 Boomerang Family [Go-ryeong-hwa-ga-jok] has not had much coverage in the western critical press, but was decribed by James Mudge at Beyond Hollywood.com as "definitely one of the better and more distinctive Korean comedy dramas of late, and much more accomplished than most of its more melodramatic brethren."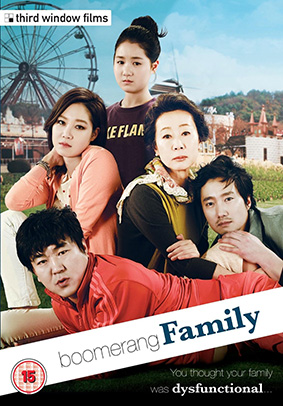 Boomerang Family will be released on UK DVD on 24th February 2014 by Third Window Films at the RRP of £14.99.
Extra features will include:

New interview with cast & crew

London Korean Film Festival Gala Q&A

Making-of featurette

Theatrical Trailer