Two young, strong-willed Scottish sisters, one a left-wing activist, the other a born-to-shop fashionista, take their late father's ashes to Cuba, the site of many intriguing family legends. Arriving in Havana, the two women promptly lose the ashes and go through a series of misadventures – both romantic and dangerous – to try to retrieve them, making some surprising discoveries along the way about the family ties that hold them together.
Drenched in sunlight and with a fabulous Cuban soundtrack, Day of the Flowers is a colourful and wryly humorous tale of cross-cultural misunderstandings and lost illusions. Directed by two-time BAFTA winner John Roberts (Paulie, War of the Buttons) and starring award-winning actress Eva Birthistle (Ae Fond Kiss, Breakfast on Pluto), emerging talent Charity Wakefield (Serena) and Christopher Simpson (Brick Lane), Day of the Flowers also introduces internationally acclaimed Cuban Royal Ballet dancer Carlos Acosta in his first leading feature film role.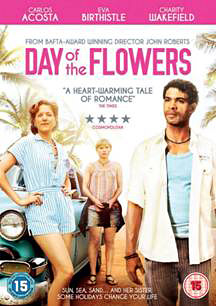 Day of the Flowers will be released on UK DVD on 10th March 2014 by Metrodome Distribution at the RRP of £15.99.
In the tradition of Metrodome press releases, no extra features have been listed.