Brilliantly suspenseful and surprisingly moving, Classe tous risques is a devastating study of loyalty and betrayal, distinguished by a bleak, incisive psychological realism. Previously unseen in the UK, it was released in cinemas by the BFI last September and in February comes to DVD and Blu-ray in a Dual Format Edition.
French gangland boss Abel Davos (Lino Ventura) has been on the run in Italy for a decade in order to escape a death sentence. But when police finally close in, he turns to his old criminal friends to help him and his young family return to Paris. With loyalty in short supply, it takes an insouciant stranger (coolly played by Jean Paul Belmondo in the same year as his breakthrough performance in A Bout de souffle), to come to the rescue.
The directorial debut of the influential Claude Sautet (Un Coeur en hiver, Nelly & Monsieur Arnaud), and based on the novel by death-row-inmate-turned-writer José Giovanni (Le Trou, Le Deuxième souffle), Classe tous risques features a stand-out performance from Ventura as a bad man trying to do right by his children.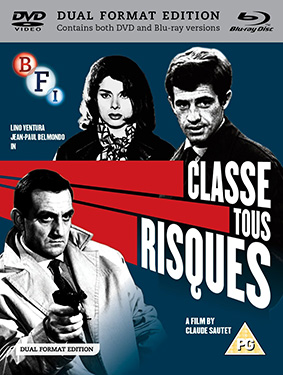 Described by John Patterson in The Guardian as "The greatest of all French gangster movies," Classe tous risques will be released on UK dual format (DVD and Blu-ray) on 24 February 2014 by the BFI at the RRP of £19.99.
Featuring a brand new restoration of the main feature, the release will have the following extras:
Monsieur Ventura (Doug Headline, 1996/2014): documentary on the life and career of Lino Ventura

Original French and US trailers

Illustrated booklet with newly commissioned essay by The Guardian's John Patterson