One of the most acclaimed versions of Mary Shelley's classic novel, Frankenstein: The True Story is to make its long-awaited UK DVD debut in March courtesy of Second Sight Films.
Made in 1973 this much lauded film stars Leonard Whiting as Victor Frankenstein, James Mason as Dr. Polidori and Michael Sarrazin in one of his most memorable roles as The Creature. Co-written by Cabaret's Christopher Isherwood and directed by Jack Smight (Kaleidoscope, The Illustrated Man, Damnation Alley), the film also stars David McCallum (The Man From U.N.C.L.E.), Jane Seymour (Live and Let Die), Tom Baker (Doctor Who), Ralph Richardson, John Gielgud and Peter Sallis (Last of the Summer Wine).
In 19th century England, Dr Victor Frankenstein, bitter over his brother's untimely death, voices his wish that men could have power over life and death. Following a chance encounter with Dr Henry Clerval, a surgeon experimenting in this very field, they join forces and Victor achieves the impossible, the creation of life. He creates a handsome, highly intelligent young man, but unforeseen problems and the involvement of evil scientist Dr Polidori lead to shocking, unimaginable horror.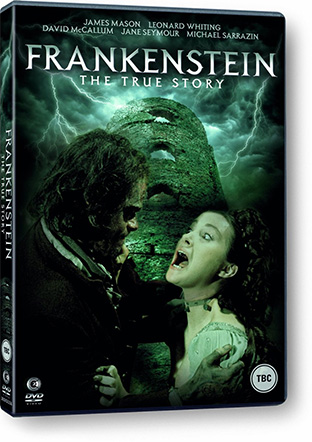 Originally screened as a mini-series on American television, Frankenstein: The True Story will be released in its full 3-hour cut on 10th March 2014 by Second Sight Films at the RRP of £15.99.
The only listed extra feature is the introduction by James Mason that preceded the original screening.