15-year-old Adèle feels like a totally normal teenager, with school, friends, parents and boys taking up most of her time and thoughts. That is until a chance encounter with a beguiling blue-haired girl turns her world upside down, forcing her to question her desires and assert herself as a woman and as an adult.
Utterly compelling from start to finish, Blue is the Warmest Colour [La vie d'Adèle - Chapitres 1 et 2] is gripping, engrossing cinema in its rawest, purest form. Winner of the Palme d'Or at Cannes 2013, it has become one of the most talked about films of the year.
The latest work from La graine et le mulet director Abdellatif Kechiche features strong central performances from Léa Seydoux and Adèle Exarchopoulos, it was praised by The Guardian for its "genuinely passionate film-making" and The Independent thus: "What makes Blue Is the Warmest Colour different, though, isn't the story itself but the searingly frank and intimate way in which it is told."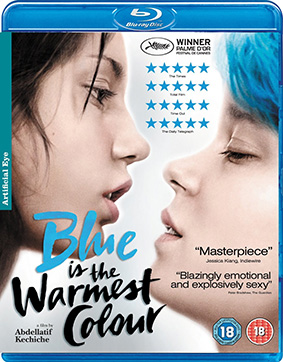 Blue is the Warmest Colour will be released on UK Blu-ray and DVD on 17th March 2014 by Artificial Eye at the RRP of £19.99 for the Blu-ray and £15.99 for the DVD.
Extra features will include: