Eureka! Entertainment have announced the release of Le mani sulla città [Hands Over the City] starring Rod Steiger (In The Heat Of The Night, The Pawnbroker, On The Waterfront) who is ferocious as a scheming land developer in Francesco Rosi's blistering work of social realism and the winner of the 1963 Venice Film Festival Golden Lion.
Beginning with the collapse of an apartment building in a working-class district, the film zeroes in on the subsequent investigation of responsibility surrounding the disaster. At the centre is Edoardo Nottola (Rod Steiger), a wealthy land developer and council member of the government's ruling party, who is determined to keep his personal and professional interests in the building of new government housing as intertwined as possible.

With sterling performances and visual prowess, Rosi meticulously unpicks the tangled threads of interconnected favours and unscrupulous culture of self-reward within the halls of governmental power. This brilliant exposé (a major influence on countless filmmakers, including Coppola's Godfather films) remains as blazingly topical as the day of its premiere.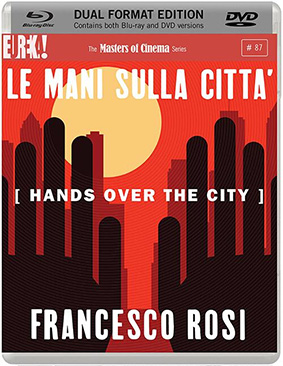 Le mani sulla città [Hands Over the City] will be released on UK home video for the first time in a Dual Format (Blu-ray & DVD) edition as part of Eureka! Entertainment's award-winning The Masters of Cinema Series on 17th March 2014 at the RRP of £17.99.
Extra features have yet to be confirmed, but will include the usual MoC booklet containing the words of Francesco Rosi, rare imagery, and more.