Network Distributing has announced the upcoming release of The Ealing Studios Rarities Collection: Volume 11, a 2-disc set that features four films from the vaults of Ealing Studios and Associated Talking Pictures and presented as new transfers in the original aspect ratios.
Return to Yesterday (1940)
Directed by Robert Stevenson and starring Clive Brook, Anna Lee and Dame May Whitty
Peter and Carol are members of a seaside theatre company, where Peter's first play is on the bill. With rehearsals are not going well, Peter and Carol are in despair. Could the sudden arrival of Robert Maine, a Hollywood success-story who had once been a struggling young actor bring them new hope?
Lorna Doone (1935)
Directed by Basil Dean and starring Victoria Hopper, John Loder,Margaret Lockwood and Roger Livesey
Victoria Hopper stars as the eponymous heroine of R. D. Blackmore's classic tale of two families engulfed in a bitter feud. The setting is Exmoor during the turbulent years of the later seventeenth century; the story turns on the love between the beautiful aristocratic Lorna Doone and handsome farmer John Ridd, whose own father was murdered by a member of the infamous family, and who had long ago sworn revenge upon the Doones.
Lease of Life (1954)
Directed by Charles Frend and starring Robert Donat, Kay Walsh, Denholm Elliott and Adrienne Corri
The wife of a Yorkshire vicar sees a chance for her husband to increase his status and income. But there are more pressing concerns for the gentle, world-weary vicar. His church is in a sad state of repair, he is being pressured for money and his health is failing him.
Calling the Tune (1936)
Directed by Reginald Denham and starring Adele Dixon, Clifford Evans and Sam Livesey
Set against the background of the development of the gramophone industry and illustrated by scenes of real recording artistes, Calling the Tune is the story of the love between the daughter of a record manufacturer and the son of the man he had cheated.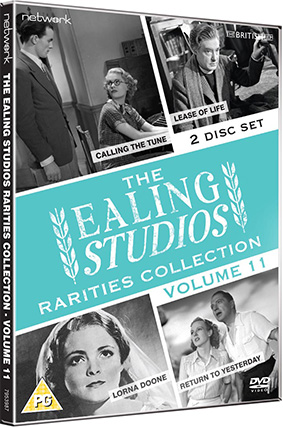 The Ealing Studios Rarities Collection: Volume 11 will be released on UK DVD as a 2-disc set on 3rd March 2014 by Network Distributing at the RRP of £14.99.
No extra features have been listed, but at less than £4 a film it's hard to complain.