Following the mysterious death of his brother, middle-aged Gerry (Aidan Gillen) travels to Singapore to help arrange the funeral and put business affairs in order. There he discovers an intoxicating world, far removed from his troubled life in London. But as he is drawn towards his brother's beautiful wife and the sexual frankness of the local culture he begins to realise that escape isn't as easy as it seems...
A brooding, beguiling and Lynchian exploration of identity, desire and the lure of the exotic, Mister John is a mesmerising drama from Joe Lawlor and Christine Molloy, the award-winning directors of the 2008 Helen. Not widely seen or reviewed as yet, but the coverage it has had is encouraging, being described as "Elusive, nuanced and poignant" by CineVue and Seventh Reel had this to say: "Nicolas Winding Refn's Only God Forgives is a bad film about westerners in Asia, doing very little but trying to be atmospheric by not talking. The husband-wife team of Joe Lawlor and Christine Molloy have tried the same thing; they are significantly more successful."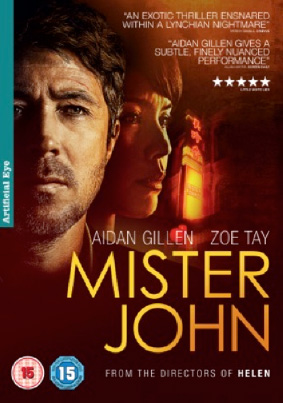 Mister John will be released on UK DVD (no Blu-ray?) on 24th February 2014 by Artificial Eye at the RRP of £15.99.
Extra features will include:
Speaking of which...