Bill S. Preston and Ted Theodore Logan are possibly the most cheerfully brain-dead teenagers in San Dimas, a small town on the outskirts of Los Angeles. Their band Wyld Stallyns is going nowhere, they're both on the verge of flunking high school, and Ted's father is preparing to send his son to military college. Then a man named Rufus turns up at their door and assures them that the fate of the future hangs on the music they will later create, which will only happen if the pair pass submit an outstanding history report and are able to stay in school and continue with the band. To aid this Rufus gives them a time machine, which they can use to collect a few key figures from history, which will enable them to deliver the best history report San Dimas High has ever seen.
The film that launched the careers of Keanu Reeves and Alex Winter, Bill & Ted's Excellent Adventure (1989) spawned a sequel, a cartoon series and a comic book spin-off, a popularised words like "bogus" and "bodacious" remains a funny, fondly regarded and smarter-than-it-looks bout of time travelling silliness, and a cult career high point for Critters director Stephen Herek, the man who went on to punish us with the horrible Mr. Holland's Opus.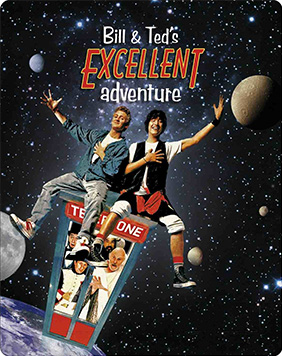 Bill & Ted's Excellent Adventure will be released on UK Blu-ray as a 25th Anniversary Steelbook edition on 17th March 2014 by StudioCanal at the RRP of £29.99.
We're under the impression – though have not had this confirmed – that we're looking at a restored transfer here (I'll update the story if I hear for certain), and this disc will include the following extras:
The Original Bill's Ted: in conversation with screenwriters Chris Matheson and Ed Solomon

Hysterical Personages: biographies of nine historical dudes and one dressed as a dude

Premiere episode of the cartoon series

Score! An interview with guitarist Steve Vai

Air guitar tutorial with champs Bjorn Turoque and the Rockness Monster

From Scribble to Script gallery

The Linguistic stylings of Bill's Ted Video Dictionary

Radio Spots

Stills Gallery