Misa is a stocky girl who is viciously dubbed Pooh at school, due to her surname "Kumada" (bear + rice paddy) and masculine frame. Izumi says she can't make and keep friends because all the other girls are jealous of her looks. Together, the two become best of friends owed to them both being such firm outsiders. Their blossoming friendship starts off as endearing and as the two spend more and more time together the sheen of the relationship peels away. When the darkness and violence eventually bleed into the mix, that authenticity turns what could just be another tale of teenage friendship gone awry into a genuinely disturbing thriller.
The debut feature of 24-year-old Japanese director Ryohei Watanabe, shot on a budget of just £10,000 (or the equivalent in Yen) had its UK premiere at Raindance last year and attracted some very positive responses, with Beyond Hollywood describing it thus "Shady really is an amazing debut for Ryohei Watanabe, and a gripping psychological drama that comes with a vicious emotional punch. Succeeding both as a dark depiction of teen loneliness and infatuation and as a portrayal of homicidal lunacy, it's a taut, involving and disturbing film which will doubtless continue to find admirers."
The film stars the typographically problematic Mimpi*β, together with Izumi Okamura, Moriko, Ayumi Seko and Hiroki Horikawa. As well as directing, Ryohei Watanabe also wrote, produced and edited the film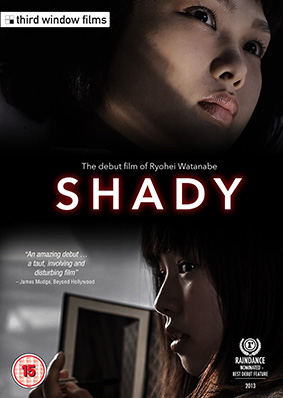 Shady (actual title Kashikoi inu wa hoezuni warau) will be released on UK DVD on 24th March 2014 by Third Window Films at the RRP of £14.99.
Extra features will include:
Interview with director Ryohei Watanabe
Interview with actresses Mimpi*β
Interview with actresses Izumi Okamura