Even superheroes have a dark side.
The city is under attack from a deadly killer. A master villain who goes by many names and has many faces, all of them deadly. But who is he...Kevin Sherwood, Ring Master Jesus, The Matanza Killer? There's one person who needs the answer so he can start saving lives and that is... Sparks.
When his parents are killed in a car crash fireball, Ian Sparks makes it his mission to fight crime. As a masked vigilante he burns with the desire for vengeance and soon discovers the dark side of heroism, where havoc is wreaked for profit and life is cheap. Sparks joins forces with a band of mysterious super heroes who operate in the shadows, but what they have in common is more than Sparks can imagine and the cost of finding the evil villain and uncovering the truth may be more than he can afford.
Sparks is an action-packed superhero thriller based on the graphic novel series of the same name illustrated by JM Ringuet, Tyler Endicott, William Katt and written by Christopher Folino, who also adapted it for the big screen. The film stars two of Hollywood's rising stars Chase Williamson (so good in Don Coscarelli's John Dies at the End) and Ashley Bell (The Last Exorcism), alongside a brilliant support cast of award winning actors Clancy Brown (The Shawshank Redemption and also excellent in John Dies at the End), Clint Howard (How the Grinch Stole Christmas), Jake Busey (Starship Troopers) and William Katt (Carrie).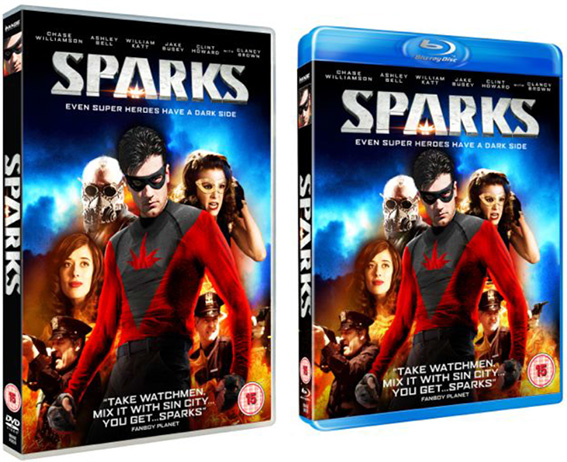 Described by Examiner.com as an "Outstanding super hero thriller" and Washington Times as "High action entertainment," Sparks doesn't seem to have landed a cinema release anywhere yet (except Kuwait!), and thus makes its UK premiere on DVD and Blu-ray on 7th April 2014 by Image Entertainment at the RRP of £12.99 for the DVD and £15.99 for the Blu-ray.
Extra features will include:
Audio Commentary

The Making of Sparks

Unseen scene