When an innocent young woman (Tang Thanh Ha), whose family has been killed by an evil general, arrives at the seaside tavern, they train her to become a skilled assassin so that she can take bloody revenge for her family. How's that for a plot summary?
The Vietnamese film The Lady Assassin [My Nhan Ke] is a sexy, action-packed martial-arts fantasy set in a traveller's tavern whose owner, with the help of her team of lethal waitresses, routinely slaughter the corrupt government officials & businessmen who visit. Harking back to the golden era of the Shaw Brothers martial arts films from Hong Kong, Nguyen Quang Dung offers slick direction of his beautiful female cast, making great use of cutting edge technology to ramp up the action set pieces.
The Lady Assassin was directed by Nguyen Quang Dung and stars popular Vietnamese actresses Tang Thanh Ha, Ngoc Quyên, Kim Dung and Diem My. It doesn't appear to have been widely seen in the West, but Twitch Film said of it: "The Lady Assassin is more than comparable to plenty of Hong Kong and China's recent output, and there is a proven audience for seeing beautiful women give evil men a good arse-kicking, and in that regard, The Lady Assassin is entirely successful."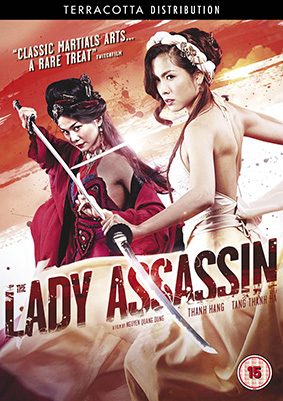 The Lady Assassin will be released on UK DVD on 10th March 2014 by Terracotta Distribution at the RRP of £14.99.
Extra features will be:
Some may be a little disappointed that there is no Blu-ray release, as the film was originally screened in 3D, a version you won't find on the DVD.